Are you looking for a step-by-step guide to start your OnlyFans page and start earning? Then, this detailed guide is for you, beginners!
You don't need a massive social media following to create a successful OnlyFans page.
Many creators are building booming pages starting from the ground up, and you can too!
This guide will take you through each step, and before you know it, you might have your very first followers.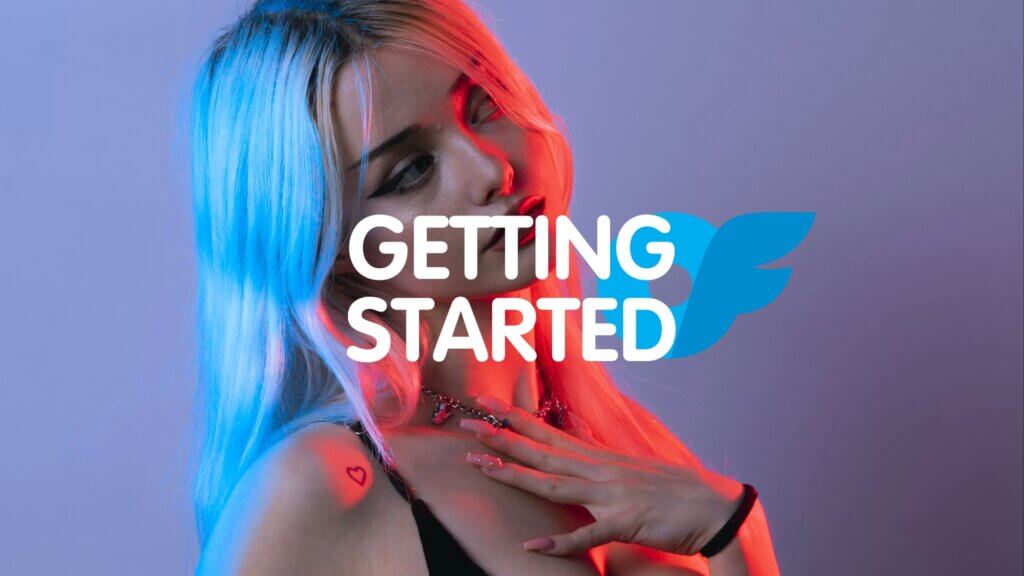 How to get started on OnlyFans
Building a successful OnlyFans page requires careful planning. Here are some things to consider before you set up your account:
Finding Your Niche
Identify your unique content style – niche. It's like finding your north star in the vast ocean of content creation. This style will be the driving force behind your content.
Here are a few trending niches OnlyFans:
Hotwife
Cosplayer
Gamer girl
The girl next door
Amateur
Hardcore girl
Your niche will guide the content's tone, your wardrobe choices, and even how you interact with your audience. Choose something that genuinely interests you.
For more ideas, take a look at our OnlyFans niche ideas blog post.
Whether you choose to reveal your identity or remain anonymous is another decision to make. If you're worried about privacy, check out our detailed guide on how to make money on OnlyFans without showing your face.
Organizing Your Content Calendar
Creating content on OnlyFans can be time-consuming, especially in the early stages.
Plan your content calendar thoughtfully, considering how frequently you'll post and when you'll create content.
Aim for at least one post a day to gain momentum until you've amassed a significant following. This commitment can be quite time-consuming. You might need to assign one or two days each week exclusively for content creation.
Consider creating a content backlog if you're also busy with some other jobs. This way, you'll always have fresh content ready to go.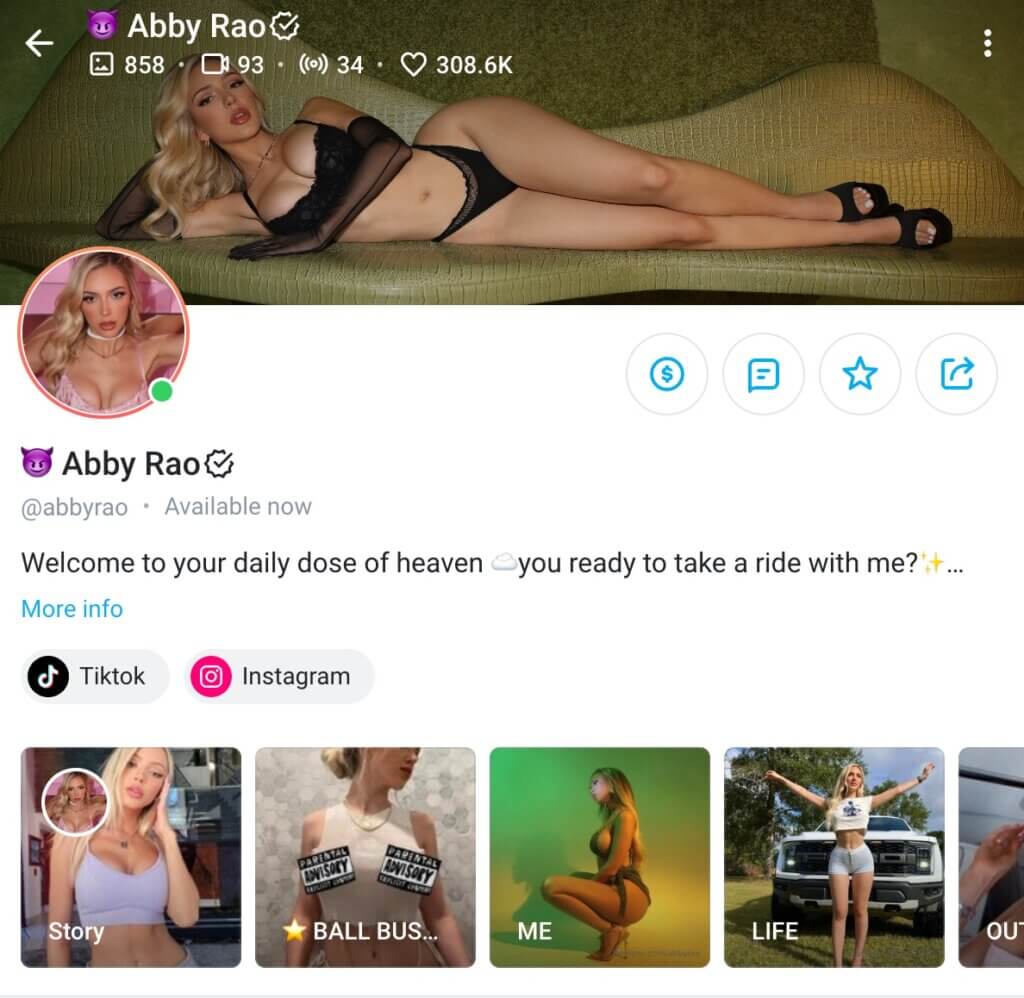 Creating Your OnlyFans Page
Setting up your OnlyFans account is pretty straightforward and similar to any other social media platform, requiring email verification.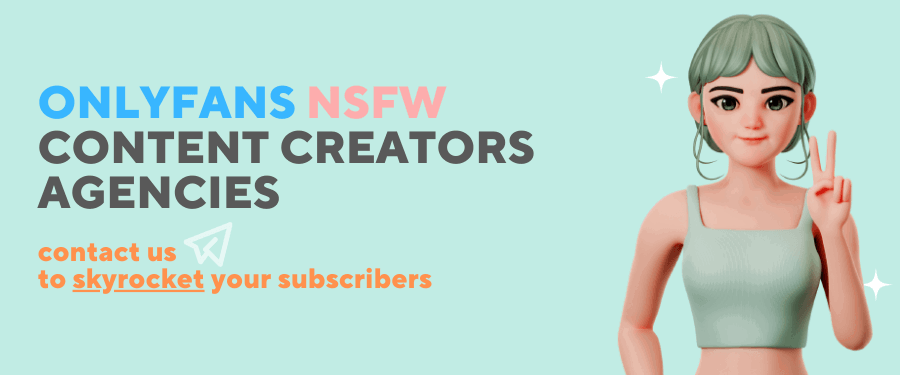 Now, let's get to the next steps after creating the account.
Get a Username and Display Name
Upon signing up, OnlyFans assigns you a random username. You'll want to modify it to something more fitting for your style and personality. This username will appear in the URL of your profile, and remember, it's a one-time decision, so choose it wisely.
Your display name, however, can be updated whenever you like.
This name will be visible to the public and your subscribers.
You might want to weave your unique content style into your display name, helping users associate you with a specific theme.
Choosing Your Profile and Banner Photos
Select your finest work for your profile and banner images. Opt for exciting and positive images, leaving the more explicit content for subscribers.
Your banner image should be landscape-oriented, so you might need to create new content specifically for this purpose.
Writing a Tempting Bio
Your bio can be a powerful tool for converting casual visitors into paying subscribers.
Check out our detailed guide on OnlyFans bio ideas for more tips. Your bio should clearly communicate what you offer on your platform.
Keep it clear, concise, and lively.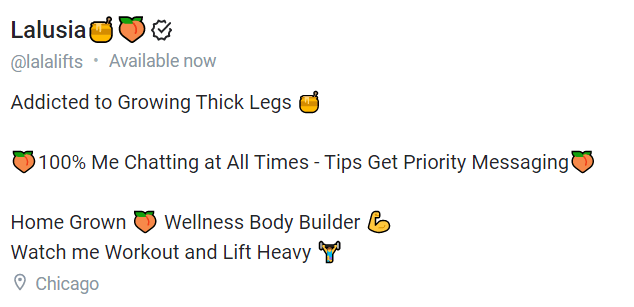 Verifying Your Account and Adding Payment Info
Account verification is mandatory before you can add your payment details. Although the platform is quite strict, our comprehensive OnlyFans verify guide can help you sail through the process smoothly.
Remember, verification can take 24 to 48 hours.
If your application gets rejected initially, don't panic. The rejection email will explain the problem. Fix the issue and resubmit.
Consider setting up a separate bank account for your content platform earnings to simplify your tax preparations.
You'll have to pay taxes on your income, so setting aside roughly 30% of your earnings can help cover the tax amount when it's due.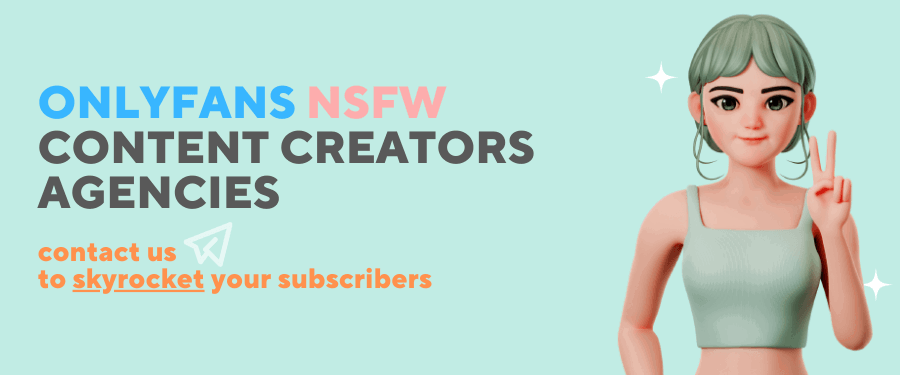 Launching Your OnlyFans Page
Now, the exciting part – launching your OnlyFans page and making money!
Free Vs. Paid Content Platforms
You can start with either a free or a paid account. If you choose a free account, you can offer paid content as a pay-per-view (PPV) option, or have subscribers tip you for the content.
Free Page: This can be a good way to start and build a follower base, especially if you're already well-known on another platform such as Reddit. You can earn money through tips and pay-per-view content, where your subscribers pay to view individual pieces of content.
Paid Page: With a paid account, your subscribers pay a monthly fee to access your content. This can be more profitable if you have a steady stream of content and a dedicated fan base. You can set your subscription price anywhere from $4.99 to $49.99 per month. It's generally a good idea to start on the lower end until you've built up a larger following.
Hybrid Account: Some OnlyFans content creators have free and paid accounts. The free account can be used to promote and drive traffic to the paid account, where the exclusive content is.
As for pricing, here are a few factors to consider:
Content Quality: Higher quality content generally justifies a higher price point.
Content Quantity: If you're able to post regularly and often, you can justify a higher price.
Your Niche: Some niches can command higher prices than others, depending on the demand and the uniqueness of the content.
Audience: Consider your audience's willingness and ability to pay. It might be better to have a lower price with more subscribers than a higher price with few subscribers.
Our suggestion would be to consider launching a paid page, even if you're just starting out. You could set the monthly subscription fee at a reasonable rate of $5-$10 and as you gain more followers, you can gradually increase the price.
Remember, you can change your pricing at any time, but it's generally better to start low and gradually increase your price as you grow your fan base and improve your content quality."
Before you start promoting your account, it's a good idea to have some content already posted so that when people check out your OnlyFans, they see what they'll be subscribing to.
Think about what makes your content unique and play to those strengths. If you're unsure what content to post, look at successful creators in your niche for content ideas.
But remember to make it your own – authenticity is key in building a strong connection with your audience.
While explicit content is popular on OnlyFans, it's not a requirement. There are successful creators on OnlyFans who share fitness tips, cooking tutorials, fashion advice, and more. The platform is flexible and can be tailored to your skills and interests.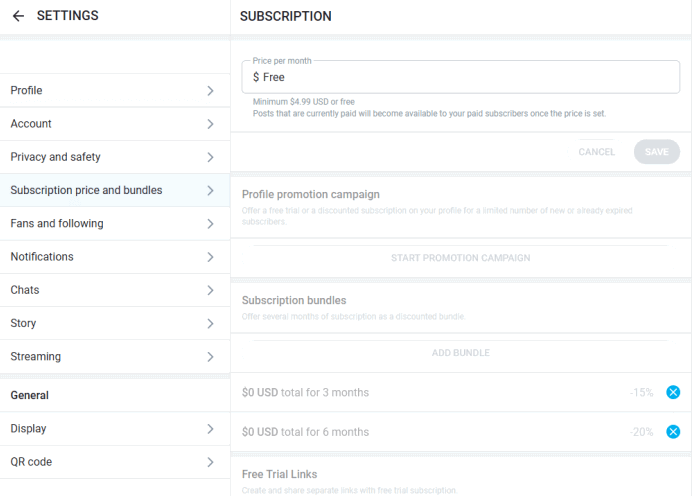 Use Deals and Discounts
So, you've made your OnlyFans page.
What's next? Well, consider offering deals and discounts. This tactic is really handy, especially at the start, when you're trying to win your first followers.
Discounts can give people that extra nudge to hit 'subscribe', while deals for longer subscriptions can lock in fans for more time.
Send a Friendly Welcome Message
When someone subscribes to your OnlyFans page, they automatically get a welcome message. Use this chance to say thanks and invite them to enjoy and interact with your posts.
Your welcome message should feel friendly and personal.
You could attach some pay-per-view content to your welcome message for a bit of bonus earnings, giving your new subscribers something extra to look forward to.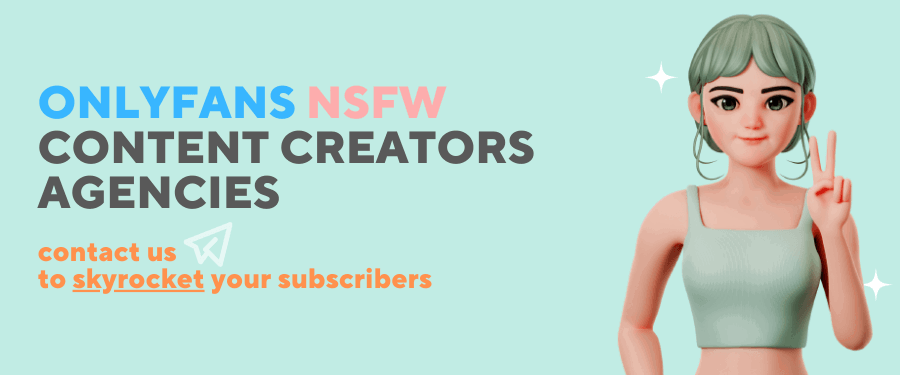 Control Your Audience's Location
OnlyFans lets you choose who can and can't see your page based on their country. This feature could be handy if you want to keep your OnlyFans page a secret from people in your home country.
Just remember that limiting access from high-traffic countries might mean fewer visitors to your page. So, for example, if you block the United States, you might see a huge drop in your followers.
The choice is yours, though. Maybe you prefer more privacy over more traffic.
You can choose to hide your follower count in the settings menu on OnlyFans. This feature could be useful when you're just starting out and don't have many followers.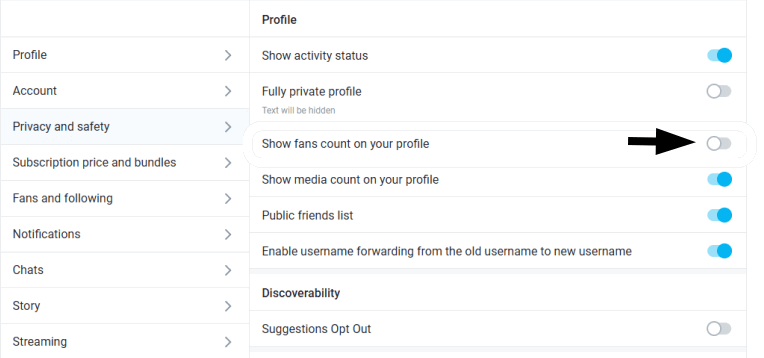 After all, people might be less willing to subscribe to a creator with a small following. So, to avoid this, keep your follower count private until you've built up a solid fan base.
Making Content for Your OnlyFans Page
You've got your OnlyFans profile and page all set. Now, it's showtime! It's time to breathe life into your blank page with compelling posts.
To rock your OnlyFans business, you'll need to design three unique types of content.
Content for social media promotion: Now, this is where you could showcase your work while still keeping it safe for social media. Depending on the platform you're using for promotion, it might be best to steer clear of explicit content. Not only does this protect your account from potential bans, but it also teases viewers, inviting them to visit your OnlyFans page for more. Pictures usually work well for promotion, but videos, although more resource-intensive, can drive higher engagement. You can also use hashtags and Tinder to get more audience.
Content for your OnlyFans page: This is where your creativity takes center stage. Post quality content on OnlyFans that engages and keeps your followers coming back for more. While your aim is to give your subscribers value for their money, save your top-tier stuff for pay-per-view (PPV) content. Dive into your creative zone, discover your niche, and make it enjoyable. Be consistent with what works best, but don't forget to mix things up occasionally.
Pay-per-view content: This is your opportunity to maximize your earnings. Share your most extraordinary content via Direct Messages (DMs) and hide it behind a paywall. Top creators on OnlyFans attribute a significant chunk of their earnings to PPV content, which often features more intense or exclusive content than what's freely available on your page. Starting out, you can concentrate on filling up your page and eventually introduce PPV content to your subscribers.
Sparking the Connection with Your First Post
Pondering what your first OnlyFans post should look like?
There's no set formula, but if you're hunting for ideas, kickstart with a delightful picture of yourself coupled with an engaging captions. This could be a teaser about what subscribers can look forward to.
Pin this post at the top of your page for visibility.
An introduction post setting the expectations is a much smoother start than launching straight into explicit content.
Try to refresh your page with new content at least once a day to begin with. Some creators even suggest posting up to three times daily for a faster lift-off.
Set aside a day or two each week for content creation. Batch production works wonders, particularly if your niche demands intricate setups or specific attire. After that, you can schedule posts for the rest of the week.
Low-Cost, High-Quality Content Creation At First
Contrary to popular myth, you don't need a high-end camera or lighting to create quality content.
Even a modern smartphone with a good camera will do the trick. If you need some tips, there are guides available online to help you maximize your smartphone's camera capabilities like this: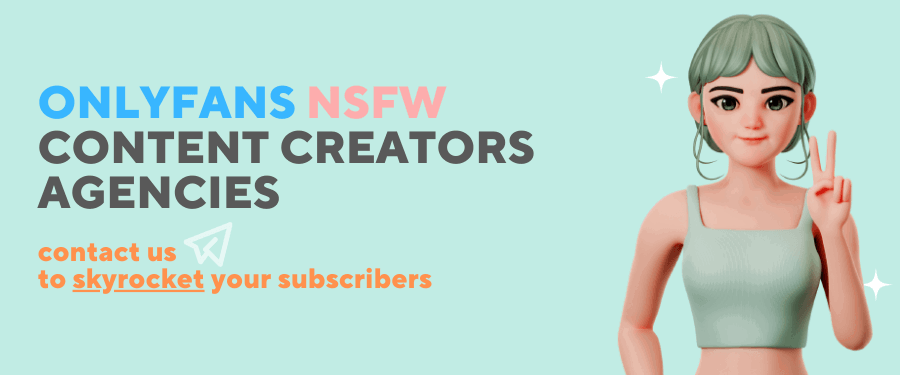 Try to schedule your shoots during daylight hours to take advantage of natural light.
If you can, a ring light and a tripod could be handy additions to your setup. And as your journey progresses, you can continue to enhance your setup.
Knowing your way around a photo editing tool like Canva can be a game-changer. Not only can you make your pictures pop, but you can also add watermarks to safeguard your content from theft. So it's definitely worth learning the ropes.
The Power of OnlyFans Promotion
You've set up your profile, filled it with captivating content, but without active promotion, finding your first few subscribers can seem like finding a needle in a haystack.
OnlyFans lacks an internal search algorithm, and relying solely on the platform's creator recommendation system won't cut it, especially for newbies with limited visibility.
Rather than leaving it to luck, take the reins and promote your OnlyFans page on Reddit. Funnel visitors from external platforms, with social media being a powerful channel.
One proven way to draw subscribers to your OnlyFans is through Reddit promotion. With thousands of NSFW-friendly subreddits ripe for promotion, many creators have found a treasure trove of willing followers ready to pay for enticing content.
To streamline your Reddit promotions, consider using automation services like Upvote.Shop, which help you dedicate more time to creating captivating content your subscribers crave.
Scheduling tools like Upvote.Shop can optimize the timing of your Reddit posts to achieve peak engagement and attract a rush of subscribers to your OnlyFans page.
Beginner's FAQs
What do I need to start an OnlyFans?
Surprisingly, all you really need is a smartphone and a conducive environment for shooting your content.
Any costs to kickstart my OnlyFans?
Zero. Starting an OnlyFans business doesn't cost a dime. OnlyFans simply takes a 20% cut from your earnings.
How to kickstart my OnlyFans journey?
Launching on your OnlyFans journey is a walk in the park! Start by identifying your niche and envisioning the kind of content you'd like to post. It's okay to begin with a rough idea. Create your OnlyFans account, and dedicate time to enhancing your profile with captivating images and a catchy bio.
After a verification process, you're all set to create your page and post your first piece of content.
Can I start an OnlyFans page as a man?
The advice provided above applies equally to everyone, regardless of gender.
It's worth noting that as a male content creator, you're likely to find a predominantly male audience on OnlyFans, given that 70 to 80% of the platform's user base is male.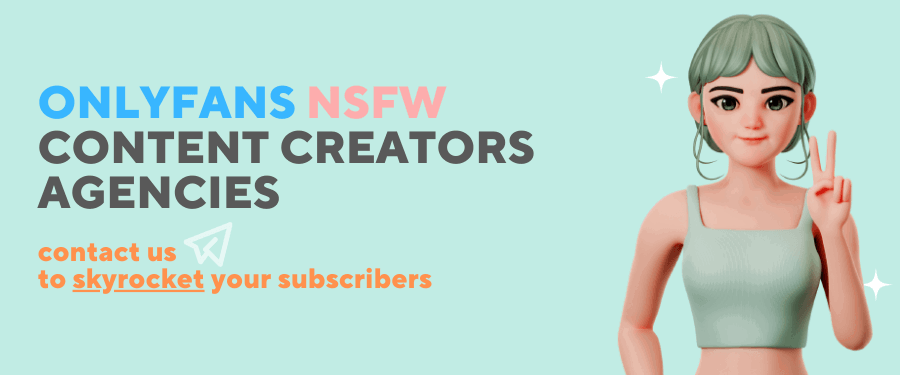 Therefore, it's crucial to identify your target audience and brainstorm how you can cater to their tastes with your content.
Whether you're a woman or a man, finding a niche is key to thriving in the highly competitive OnlyFans ecosystem.
How to start an OnlyFans with a partner?
Starting an OnlyFans with a partner requires a slight deviation during the verification process, where you and your partner must upload your IDs and sign a release form. Please read our Model Release Form guide for more details.