Karma is the ultimate score when it comes to evaluating the power of a user on Reddit. You've probably heard of it a lot, but understanding how Karma gets calculated is not easy at all.
In this article, we will do our best to explain-like-i-am-five how Karma works to help you take the advantage and rank your posts on Reddit a lot easier.
What is Reddit Karma?
Reddit Karma describes the value of your account based on the posts and comments you make, respectively.
The amount of Karma a user is displayed right on their profile page, or when you hover your mouse on their username: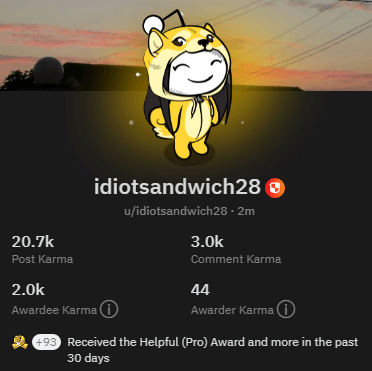 There are 2 types of Karma: Post Karma and Comment Karma. However, the only Total Karma is displayed on the user's profile page, which is the combination of the two types!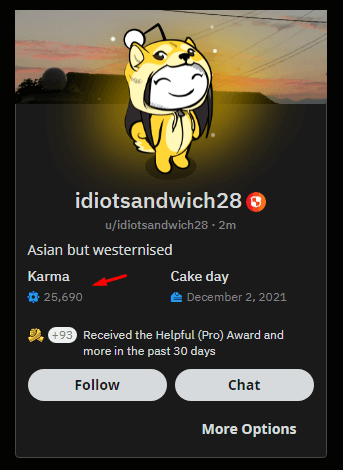 How to Get Reddit Karma?
However, not like everyone might think, Reddit Karma doesn't exactly equal to the amount of upvotes other users send towards your posts and comments.
For example, if you submit a post, and it gets 100 upvotes, you don't always get 100 Karma. Or if you make a great comment, a lot of people like it, and you get 300 upvotes, it doesn't have to be 300 Karma.
The number of Upvote Reddit you get does not always give the same amount of Karma.
This doesn't mean that you got some upvotes from flagged/shadowbanned accounts. It's because Reddit has their own way, algorithm, to calculate the Karma.
It takes plenty of factors when calculating the Karma, some of them are:
The age of your account (poster). New accounts tend to receive a lot less karma comparing to the total of upvotes they got.
The account overall quality: If your account gets many posts that get marked as spam, or the upvote/downvote ratio is usually low, the upvotes you receive also don't usually convert well into karma.
Taking Advantage of Karma in Reddit Marketing
Let's make it easier to understand by having an example.
Say you make a post on Reddit using a brand-new Reddit account, and then you purchase 100 upvotes from our Reddit panel, you will probably see some of these scenarios:
Your account don't receive full 100 karma. Maybe only 20-50% of the upvotes.
Your post (with 100 upvotes) doesn't rank higher than a post with 50 upvotes (created by an aged Reddit account).
This means, while the quality of the upvotes is important, the age/quality of your account is also the key.
It's fine to use a brand-new account to promote your content on Reddit and slowly warm it up, but if you want to rank fast and get the results immediately, it's best to buy high-quality aged Reddit accounts from us.
The more karma your account has, the easier your post rank.
By simply purchasing an aged account from us, with at least 1,000 karma, even if your post has only 100 upvotes, you can easily outrank other posts with 150-200 upvotes, being posted by less-quality account.
This gives you a step ahead of everyone, especially if you are new to the Reddit game and want to make some revenue immediately.
This is also super useful in NSFW niche, Onlyfans, etc. where you only need to buy around 100 upvotes from our Panel to skyrocket your post to the top immediately.
Conclusion
We believe that you've found some of the most useful tricks when it comes to Reddit Marketing from this article.
This is an unshared trick that we have been using for years now. We do not only sell the upvotes, we also sell the results.
Happy using Upvote.Shop!