Writing a good bio is key to making your OnlyFans successful, to convert better, to gain more subscribers, and eventually more revenue.
By taking the time to customize your bio and give viewers an inside look into who you are and what you offer, your OnlyFans page can stand out in the best way possible.
In this blog post, we'll discuss why having a well-crafted bio is so important and share some tips on how to make yours perfect.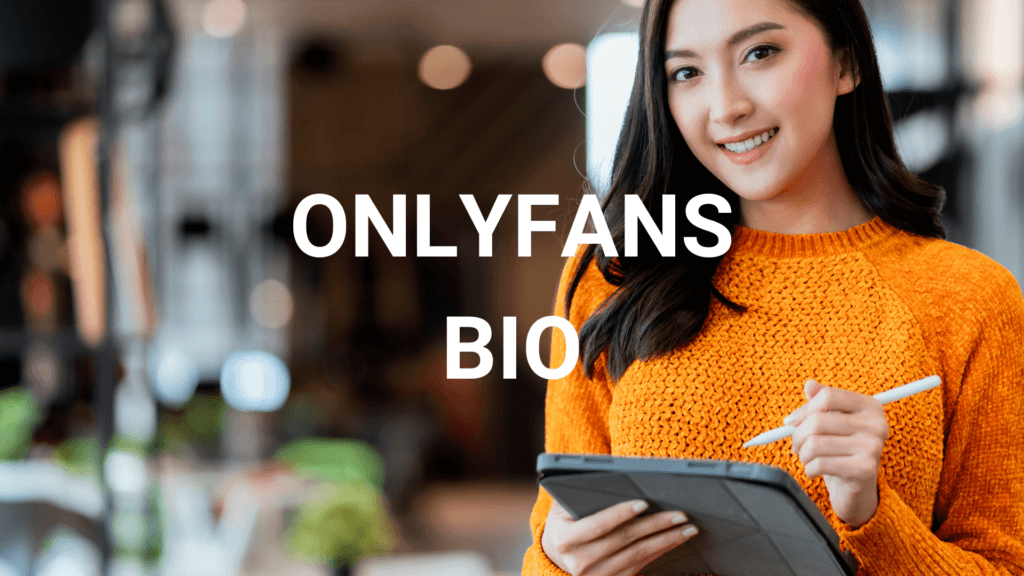 What is OnlyFans Bio?
Your OnlyFans bio is a short summary of your profile that appears just below your name. With only 160 characters, you need to make sure your message is both informative and enticing.
Your goal should be to help potential subscribers understand what your page offers, entice them to sign up, and make it easier for OnlyFans search engines to find your profile.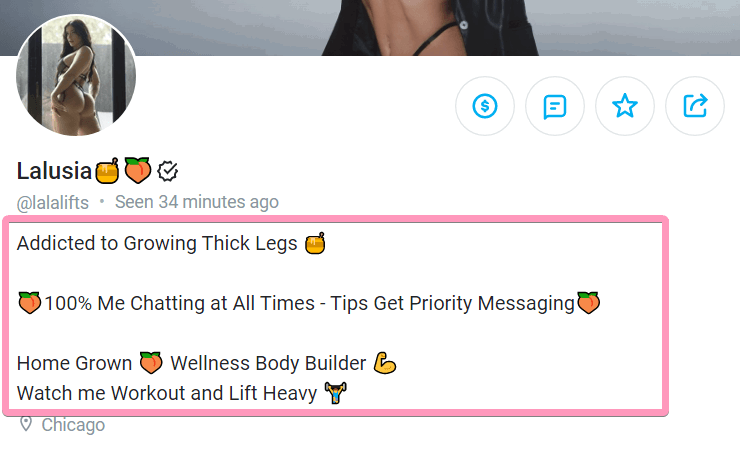 Why do I need to care about my OnlyFans bio?
When creating your OnlyFans profile, it's important to make sure you catch people's attention, explain what content you offer, and entice them to subscribe.
Your profile pics and bio section are the only things potential subscribers can see, so make sure you focus on those areas.
If you need more info on setting up your header and profile pic, check out our guide on how OnlyFans work!
OnlyFans search engines
OnlyFans lacks a proper search function, so potential subscribers find profiles using Google searches and OnlyFans search engine sites.
The search engines rely on keywords taken from your bio, username, and display name to help promote searches.
For example, if you fall into the Asian & thick niches, and you have "asian" and "thick" somewhere in your bio, then users who search for this kind of content can easily find your account on the search engine and maybe even Google.
Search sites utilizing creator bios to categorize content for niche and kink searches are becoming increasingly popular, with tens of thousands of people utilizing the platform every day.
Acting much like Google, these sites will list relevant OnlyFans content creators when searching.
Moreover, if willing to pay a fee, creators have the ability to appear at the top of the search results.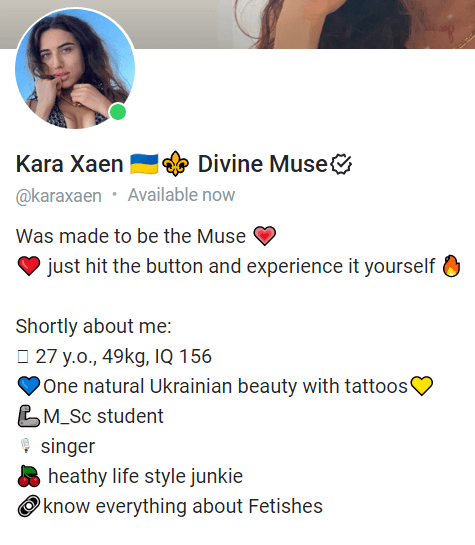 How to write a great OnlyFans bio
Quick and easy tips for writing a great OnlyFans bio for you!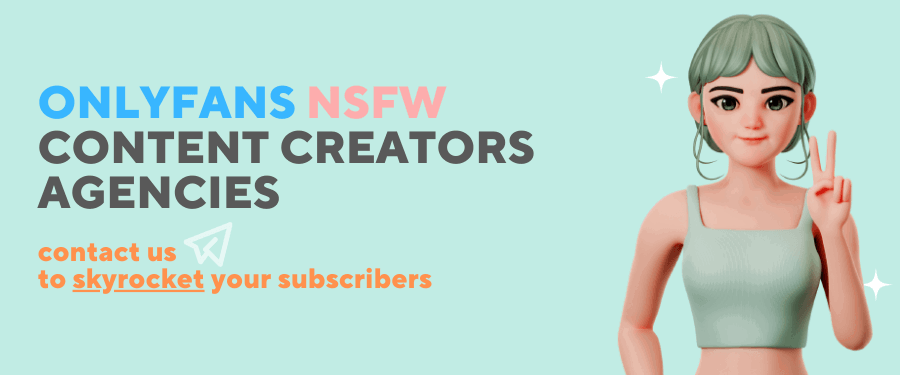 Keep it short
People have short attention spans, so make your bio a few sentences long. Too much info and potential subscribers will just browse away.
Let people know what you offer
Make it clear what subscribers can expect from your page. For example, if you don't post explicit/nude content, be sure to say that up front. Otherwise people may subscribe, be disappointed and unsubscribe without returning.
Include the keywords
Using keywords specific to your niche can help ensure your content is easily discoverable on OnlyFans search engines.
Anyone with an Asian pedigree and curves to boot should strive to include "asian" and "thick" in their bio for best results.
Ideas for your OnlyFans Bio
Let people know what you offer
Outline all the services and content frequencies you offer! Tell people what you post on a regular basis– photos and videos every week, 5-7 times a week, daily, etc.– so they know what to expect.
Include other details, such as sexting, perks when you're subscribed/chatting, customs, mass messages & PPV. If you have a tip menu, post it in your bio or pin it– let subscribers know what they get with their subscription.
Being explicit in your bio gives people an idea of what they're paying for and helps let them find the page they're looking for.
It is also totally fine if you don't want to reveal your face!
Make it a personal bio
Want to stand out from the other models you're competing with for attention? Write something more personal in your profile that showcases your niche and story
Subscribers come to OF looking for that connection with a real person and getting off to them; they don't just want worldliness.
Make sure to advertise in your bio that you DO reply to DMs and if you offer PPV content, include that as well. It's been our experience that DM's and PPV content can make you more money than just subs alone!
So why not let your potential subscribers get to know you and let the money pile up! Show off what they can't get anywhere else: YOU!
Use different fonts
You can use some interesting fonts to catch people eyes easier whenever you want to bold some keywords. It's recommended to not use these kinds of texts a lot as it could hurt people eyes in a long sentence. Only use them for your most important keywords.
Yᴏᴜ ᴄᴀɴ ⓐⓛⓢⓞ ⓤⓢⓔ ???????????????? ???????????????? ???????????????? ???????? ????????????????.
Simply go to yaytext.com, type down the words you want and copy the results, then paste it onto your profile.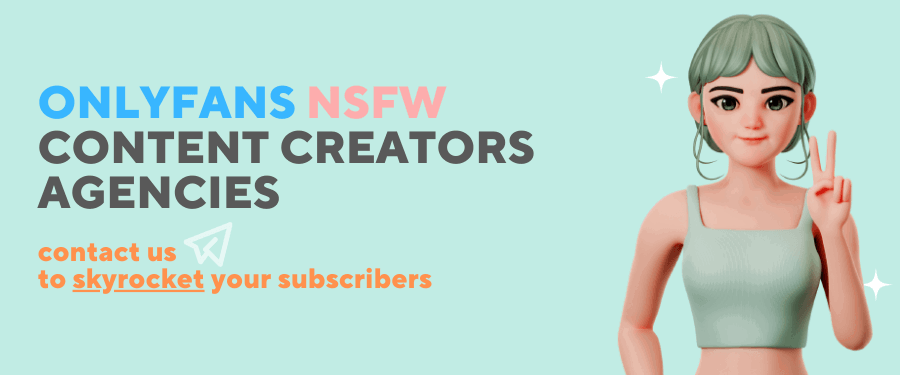 Using emojis
Using Emoji is a great way to insert your feeling into the wall of text. Adding some emojis here and there is always great for catching people attention.
Just don't over do it to keep the bio professional.
Use emojis which are related to your niche and your personality.
Emojis are a good way to brighten up a bio and break up a wall of text. The ???? face works very well for almost all niches, especially the cute/cosplay/kawaii niche.
Naughty hook
A naughty joke or hook at the start of your bio can make it more unique, fun, and lively. Here are some ideas for a one-liner OnlyFans bio:
I'm not bad, I'm just drawn that way.
Good girls go to heaven, bad girls just make you FEEL like you're in heaven.
I'm not a tease, I'm just a reminder of what you can't have.
I don't bite… unless you want me to.
I have a naughty side, but you'll have to be patient to find out.
6. I'm not a saint, but I'm not a sinner either. I'm somewhere in between.
I'm not a bad girl, I just have a wild imagination.
I'm not trying to be naughty, I'm just trying to be me.
I don't need a prince charming to rescue me, I can rescue myself.
I'm not afraid to be a little naughty.
Embracing my inner siren ????
Taking some 'me' time in my favorite lingerie ????
Feeling my sexiest in this outfit ????
Dropping a few hints for someone special ????
Making sure I'm always looking my best ????
I'm just getting started ????
Having fun with a few provocative poses ????
I'm feeling extra naughty tonight ????
Ready to turn up the heat ????
A/B Testing
The phrase "practicing creates results" can be applied to marketing.
It's all about testing different things to discover what works and what doesn't.
Don't be afraid to experiment with your bio, font, jokes, and one-liners to see what brings the best results in terms of subscriptions.
Some examples of great OnlyFans Bio:
Here are some great examples for you.
Short and to the point
Explains clearly what followers could get
Naughty welcome message
Great uses of emoji
Personal touch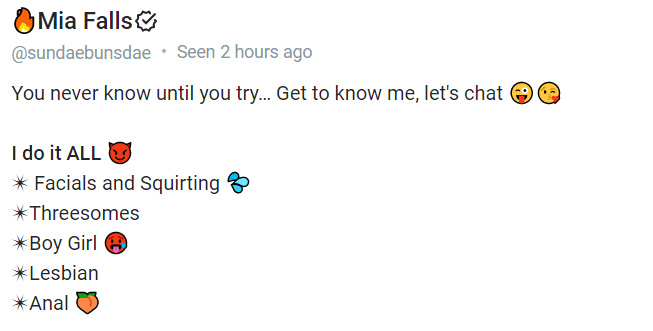 How to get more ideas for my OnlyFans Bio?
Writing a great OnlyFans bio can be a challenge, but we've got you covered!
Take inspiration from successful creators in your niche – search for them on sites like OnlyFans Search. Make sure to respect other creators, though – plagiarizing their ideas is not cool.
Once your profile is good to go, don't forget to learn how to promote it!
OnlyFans Bio FAQ
What should be on my bio?
Provide your subscribers with accurate details in your OnlyFans bio. Clearly list what you offer – be it images, videos, solo content, or a combination of them. Indicate when and how often you can post pictures and videos. It's crucial that your OnlyFans followers get a clear idea of what to expect. Keep it brief and concise.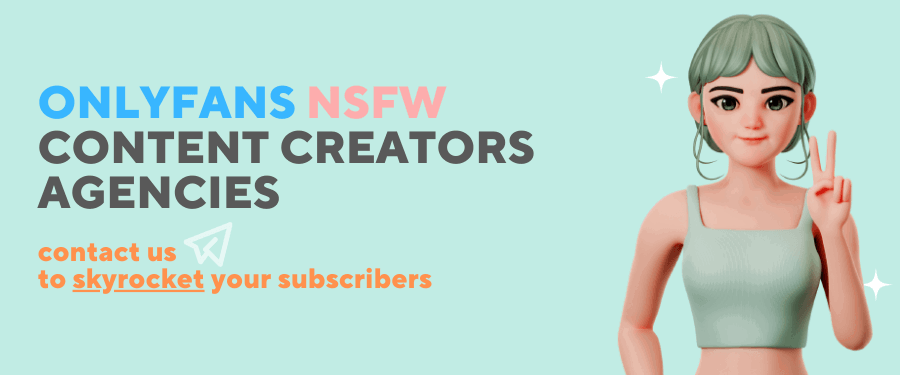 What should I post on my OnlyFans page?
Adult producers: it's all about content, content, content! You should post a combination of PPV and "free" content on a paid OnlyFans page, then post only teasers for free on a free OnlyFans page with all explicit material requiring payment. For maintaining engagement and gathering feedback, polls and stories can be key.
More details: Top 100 OnlyFans Content Ideas & Strategies
How to get more popular on OnlyFans?
The key to increasing your OnlyFans following is raising the amount of traffic your page receives. The more traffic you have the more visibility, which means more revenue. There are some ways to do this:
Promoting your page on various social media networks on a regular basis
Participating in shoutouts on social media and OnlyFans.