When featuring another content creator in your OnlyFans video, it's essential to upload an OnlyFans model release form. This document serves as proof that the said person has granted their permission to appear in the video. Upon submitting a filled-out OnlyFans release form, expect a brief waiting period while the OnlyFans team reviews it.
If you're trying to understand the OnlyFans model release form, you've come to the right place.
OnlyFans has become stricter since 2023 and is now closely monitoring creators who feature 'co-stars' without verified accounts on the platform.
Recently, OnlyFans creators have experienced a surge in content-flagging as A1 algorithms detect multiple individuals in shared content (photos or videos) without verified OnlyFans accounts or model release forms for the •co-stars'.
This mistake could result in OnlyFans restricting the content or withholding revenue, making it essential for content creators to understand the process.
How the OnlyFans Model Release Form Works
The moment you decide to share content on OnlyFans featuring a 'co-star', two legal prerequisites come into play:
You should have an official approval from your 'co-star' to publish the content.
OnlyFans should be able to verify that your 'co-star' has reached legal age.
To verify that your "co-star" has given consent and is of legal age, OnlyFans offers two options:
If your 'co-star' has a verified OnlyFans account, simply 'tag' their account in your content to fulfill the model release form requirement. OnlyFans handles the rest, making it a hassle-free option.
If your 'co-star' doesn't have a verified account, you can either help them get verified (we'll explain how in a bit) or have them sign a model release form, which you manually submit to OnlyFans.
When do I need the OnlyFans Model Release Form?
Let's clarify one point: you unquestionably need a release form if there's even the slightest motion of another person in your OnlyFans content. This rule holds true even if it's just a finger in the frame.
You're prohibited from sharing any content featuring a 'co-star' without satisfying either of the following conditions:
The 'co-star' has a verified OnlyFans account and is 'tagged' in the content.
You have manually forwarded a model release form to OnlyFans.
Verification is required even if a person's voice can be detected in the backdrop or if someone else is filming.
How can OnlyFans ensure your 'co-star' is not underage if you've not verified them, right?
For OnlyFans, it's a legal hazard to host content where participants, especially those involved in adult content, have not undergone legal verification.
All Creators Need To Verify While Using OnlyFans
Your 'co-star' doesn't have to actively use their OnlyFans account. They don't even need to have a profile picture. All that matters is that OnlyFans has verified their account.
When it comes to verification on OnlyFans, the process is handled with the utmost confidentiality. Your "co-star(s)" aren't required to have any public presence on the platform. They may have an anonymous account like "upvoteshop123" without a profile picture.
Verifying your frequent collaborators on OnlyFans can streamline your content creation process since you won't need a model release form for each piece of content. Simply tagging them is enough.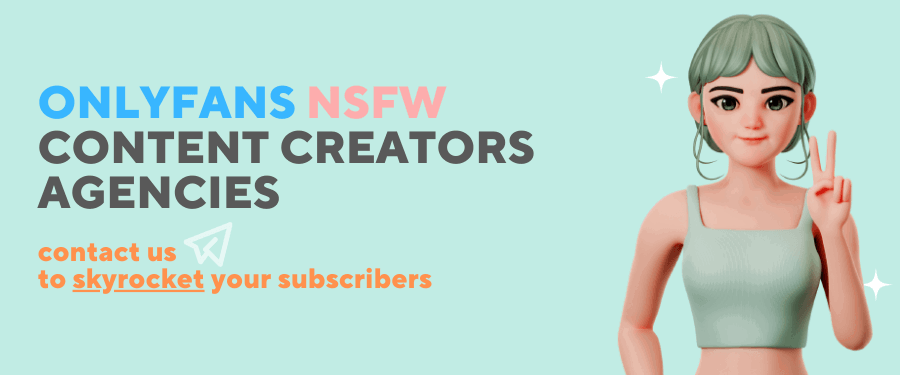 Remember, there is no risk of your 'co-star's' identity being exposed online on OnlyFans. They merely require a privately verified account for OnlyFans to confirm two things:
They are of legal age.
They consent to being featured in your content.
What would happen If I had a collaboration on OnlyFans without submitting the Model Release Form?
When OnlyFans detects that you've uploaded a content featuring unverified or 'model-released' co-content-creators, they typically give you 48 hours to get your co-star verified and tagged or for you to upload a signed model release form.
You may receive an email similar to this from the system:
Greetings,

Our system detected that you've uploaded content featuring another individual on your timeline. The use of third-party content without lawful permission infringes upon our Acceptable Use Policy. As a consequence, your account might be suspended or limited during this verification process.

Please share this link with the creator featured in your content. […]

We anticipate your response within the subsequent 48 hours to keep your posts/account active […]
If you do not comply within 48 hours, the content on your page will be removed. While some may worry that their OnlyFans account could be blocked or restricted, this is uncommon. Typically, the content is simply removed.
How to get the OnlyFans Release Form
You can get the model release form right on the OnlyFans website. After logging in, navigate to 'More' on the main menu, followed by 'Release forms'.
The simplest approach is to 'Create release form by link'.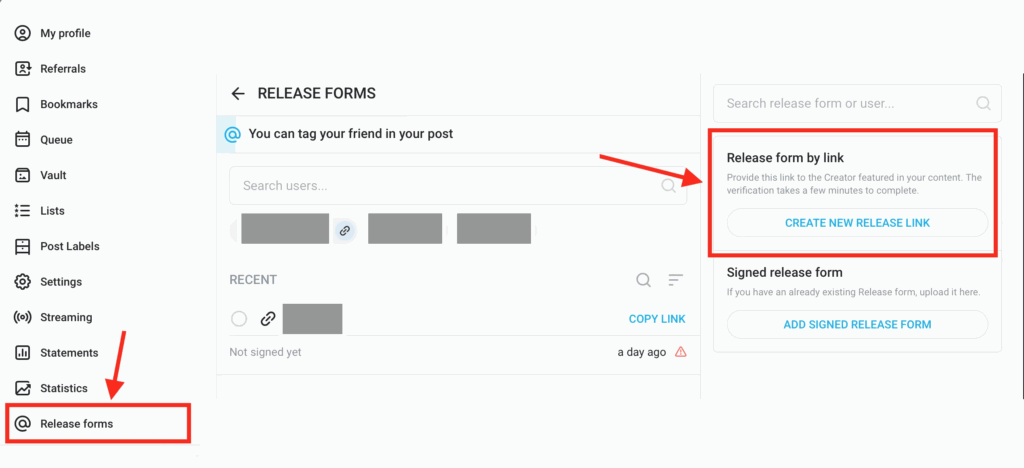 Then, specify the number of signers (e.g., 1 for your partner) and input their performance name or alias – this name will remain invisible to your OnlyFans subscribers.
OnlyFans will generate a link you can share with your co-star afterward. Your co-star can click the link and follow the given verification instructions.
In order to get verified by OnlyFans, your co-star will be prompted to take a photo of their ID and a selfie with their ID. It's quite straightforward!
Once your co-star is verified, you can tag them in any content they feature in.
If you forget to tag your co-star, OnlyFans will ensure you get a reminder!
When should I upload the Model form?
If you can't convince your co-star to get a verified OnlyFans account – even after explaining how it's entirely private and anonymous – you'll need to upload a signed model release form for them manually.
If you already have a release form, you can upload it here. Use this option to upload a signed release form manually.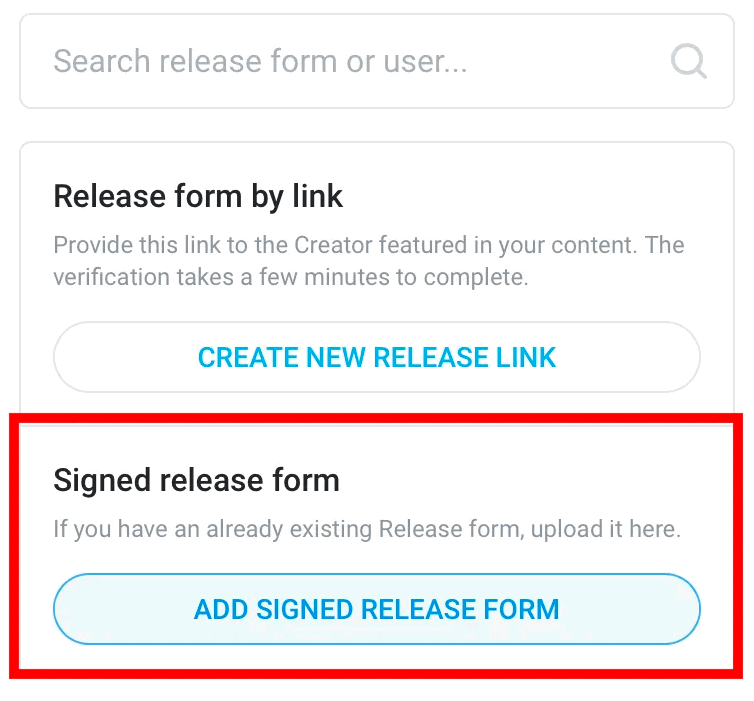 Here's what the release form looks like. You should print it out and fill up the form by hand.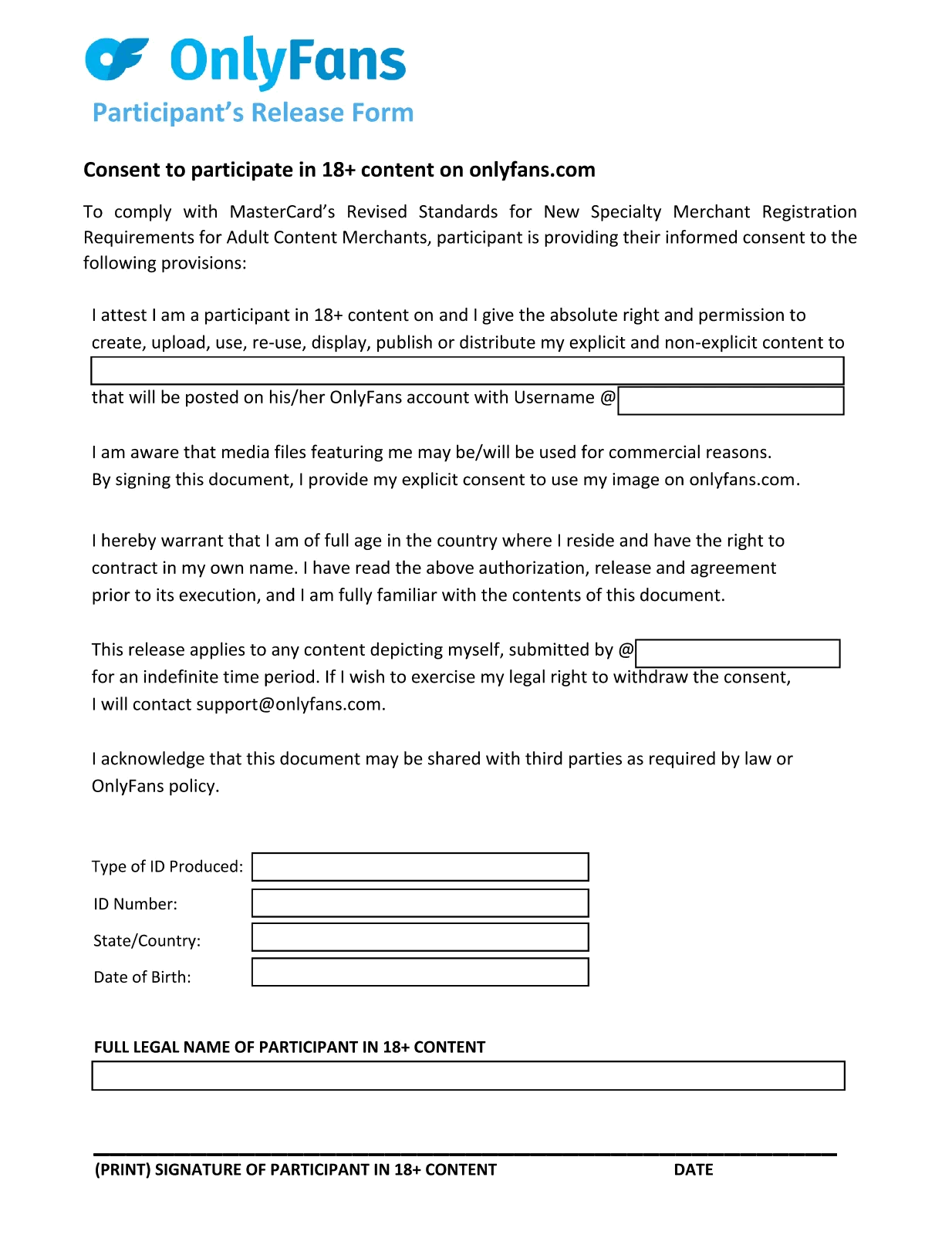 You can also use apps such as Model Releaser or Quick2257. Once the form has been signed, you are free to feature someone else on your account.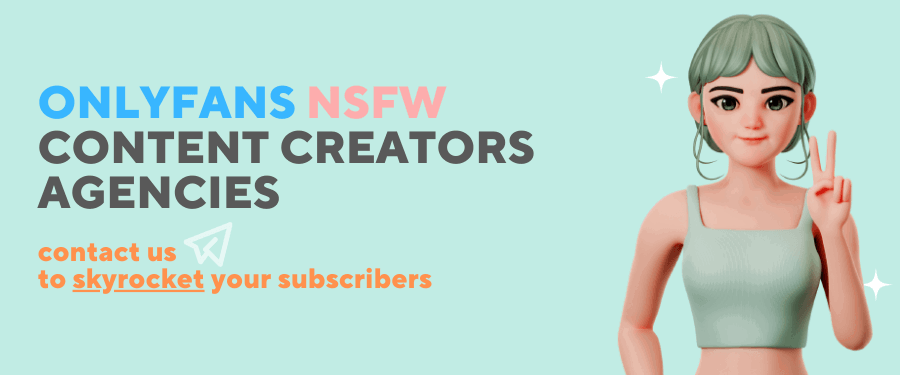 If you are worried about trusting your co-star, it may be a good idea to ask them to sign a model release form and upload it on your behalf. This way, if your co-star decides to delete their verified OnlyFans account, you will need to verify them again in the future for any related content.
However, if you had originally uploaded a signed model release form for that content, it wouldn't matter if your co-star deleted their OnlyFans account. The content remains 'verified' as lawful, given the existence of the release form on OnlyFans.
Examples of Using OnlyFans Model Release Forms
In an effort to provide real-life examples, let's consider the following scenarios:
Scenario 1: Using the Tag Feature
Let's assume you're working with Alex, a fellow OnlyFans creator with a verified account. You've collaborated on a video together and are eager to share it with your audience.
The process becomes remarkably easy due to Alex's verified status. All you need to do is 'tag' Alex's OnlyFans account when you're uploading your content.
This action is equivalent to obtaining a model release form – Alex's consent and age are already verified by OnlyFans through his account.
It's an efficient and simple procedure that spares you from the hassle of extra paperwork.
Scenario 2: Submitting the OnlyFans Model Release Form
Now, let's envisage a different situation where you've collaborated with Taylor, who doesn't have an OnlyFans account.
In such a case, you have two options: encourage Taylor to get a verified OnlyFans account or manually submit a signed OnlyFans model release form from Taylor.
To keep things easy, let's say Taylor opts for the latter. Taylor fills out the model release form, signs it, and hands it over to you. You then need to submit this form to OnlyFans.
While this process requires a little more effort than tagging a verified account, it ensures you adhere to OnlyFans' rules and avoid potential content restrictions or revenue withholding.
Conclusion
If you plan to feature someone else on your OnlyFans account, it is important to obtain a model release from them, along with a form of identification. This will help ensure that both you and OnlyFans have the person's consent to be in your video.
Failure to obtain a model release can result in your account being restricted or even permanently suspended, as OnlyFans policy states that accounts should only feature yourself.
To obtain a model release, you can use apps such as Model Releaser or Quick2257. Once the form has been signed, you are free to feature someone else on your account. However, it is crucial to ensure that you have all necessary intellectual property rights for any images or videos you upload to OnlyFans.
By taking these steps, you can protect yourself and other users from privacy and copyright issues. Make sure that any model release form you use is legal and in English.