Starting your journey as an OnlyFans content creator may seem overwhelming, especially when it comes to choosing the right equipment.
You might find yourself wondering about the props, costumes, lighting, and other essential OnlyFans equipment needed to produce high-quality content. But don't worry – we've got you covered.
This comprehensive guide will brighten your path, breaking down the list of OnlyFans equipment and helping you invest wisely in your creative efforts. Whether you're a beginner just starting your journey or a seasoned OnlyFans creator looking to up your game, the insights and recommendations ahead are designed to boost your content creation skills.
So, let's embark on this adventure together, delving into the list of OnlyFans equipment and content creation.
Must-Have OnlyFans Equipment for All Content Creators
| Equipment Name | Description | Where to buy? |
| --- | --- | --- |
| Paper Backdrops | Big rolls of paper that can be plain, colored, or decorated. Useful for creating a professional backdrop for your content. | Get it here |
| Pillows | Surrounded by colorful pillows can provide an intimate setting for content creation. | Get it here |
| Wigs | A variety of wigs can help in altering your look frequently. | Get it here |
| Lingerie | An easy way to change your look. | Get it here |
| LED Lights | Can be used to create intimate settings or as a backdrop for your content. | Get it here |
| Nipple Clamps and BDSM Costumes | Depending on your niche, these may cater to specific audience interests. | Get it here |
| Body Jewelry | Another interesting option to refresh your content and change your look. | Get it here |
| Costumes | Can be used for thematic content shoots. | Get it here |
| Body/Coconut Oil | For a glowing skin effect on camera. | Get it here |
| Makeup | Can be used to experiment with different looks. | Get it here |
| Ring Lights | Cheap but effective lighting equipment. Helpful in improving photo/video quality. | Get it here |
| Tripods with Remote Capture | Helps in stabilizing the camera for clear shots. | Get it here |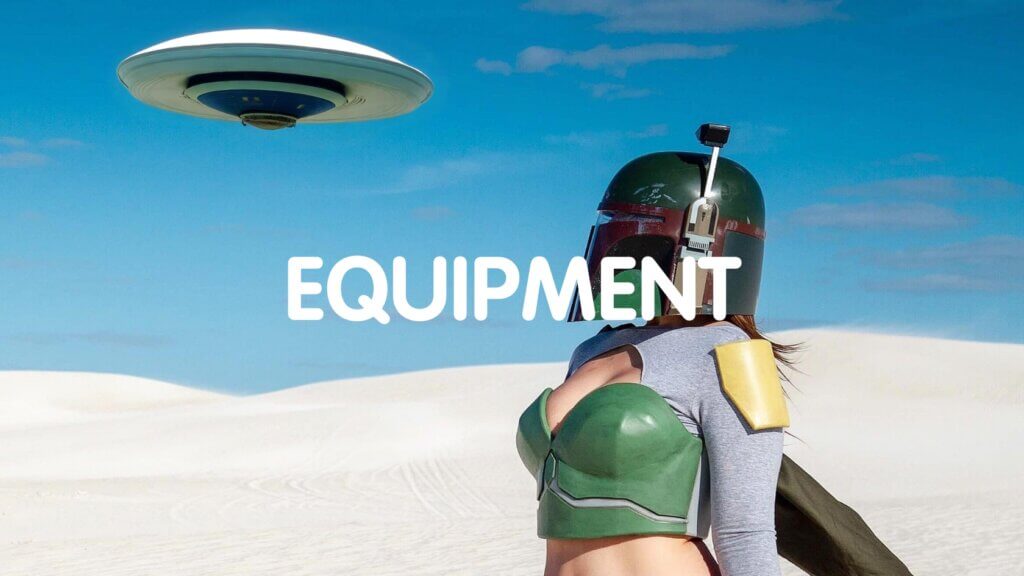 Lighting & Equipment: Skyrocket Your Content Quality
You can significantly enhance your content quality with a starter kit, even on a tight budget. A modern iPhone is all you need for high-quality content capture, providing a candid and personal touch.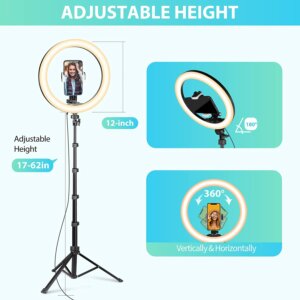 Lighting
Improving lighting is the easiest technical enhancement to your content. More light translates to better visuals.
Have you ever wondered how models create ultra-high-quality shots? It's not about expensive camera equipment. These stunning images are often produced using an affordable ring light, perfect for beginners.
However, consider your camera and the ring light size before investing—will you capture full-body shots or mostly headshots?
Some considerations when picking the perfect Ring Light for you:
Price: You can get a quality ring light for under $100 on Amazon.
Height: Adjustable rods on ring lights range from 10 inches to over 4 feet.
Size: Wider lights produce softer lighting. Typical sizes on Amazon are 12, 14, and 18 inches.
Material Quality: Avoid super cheap, plastic-made ring lights. They're likely to break within a few months.
Bulkiness: If you plan to travel with your gear, consider the size and weight of your ring light.
Required Accessories: Ring lights often come with a tripod stand.
Dimmable: The ability to adjust brightness levels allows you to meet the unique lighting needs of each shot.
Fluorescent Bulbs Vs LED Ring Lights: LED ring lights outperform fluorescent ones, offering better longevity and less overheating.
Tripods: The Key to Stable Shots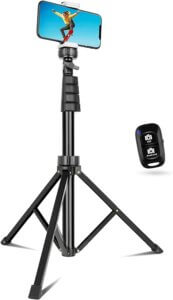 Once you've sorted your lighting, the next crucial piece of equipment is a sturdy tripod with a remote trigger.
A handheld shot often results in blurry images, but a tripod can stabilize your camera for perfect clarity every time.
Remember, successful content creation doesn't require an arm and a leg.
With smart choices and creative strategies, you can develop engaging, high-quality content that truly shines.
Props and Costumes: Bringing Your Ideas to Life
Spicing up your content with costumes and props can be the secret to keeping things fresh and engaging.
Here's a dive into some top picks and a few specific items.
Paper Backdrops
Imagine this: a large roll of paper unfurled behind you, offering a simple, sleek background that elevates your content. This is what paper backdrops can do for you. Whether you prefer them plain, adorned with colors, or even intricately decorated, these backdrops impart a professional touch to your creations.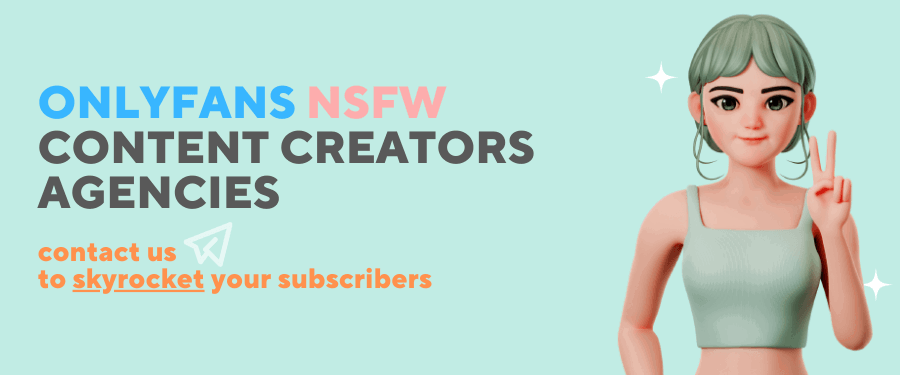 Paper backdrops require no fancy stands. You can easily secure them at home using painter's tape, or if you fancy a more professional setup, a crossbar, and tripod system from Amazon is all you need.
Pillows
A bed scattered with vibrant pillows creates a cozy and intimate setting, perfect for capturing more personal content.
Wigs
Switching up your style can be as simple as donning a colorful or differently styled wig.
Lingerie
A tasteful piece of lingerie can add a fresh twist to your presentation.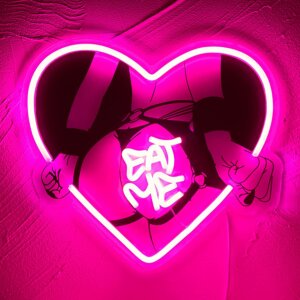 LED Lighting
LEDs offer a tool to craft an intimate atmosphere or can even act as a dynamic backdrop for your content.
Nipple Clamps
This is niche-specific, but for content creators in the BDSM space, nipple clamps and similar items can cater to your audience's preferences.
Body Jewelry
Keeping things interesting can be as easy as adding body jewelry to your styling routine.
Costumes
Themed content shoots can come to life with some enticing costumes from Amazon.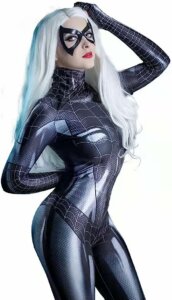 Massage Oil
Looking to achieve a radiant glow on camera? Look no further than body or coconut oil.
Makeup
Whether it's trying different makeup styles or experimenting with new techniques, there are numerous resources on YouTube to help you. If you don't have time to learn, makeup filters on the Airbrush app can be a quick alternative.
Other advanced equipment you might like:
High-Quality Microphone: If your content involves speaking or any form of audio, a good microphone can significantly improve your audio quality. This can range from lavalier mics (clip-on microphones) to larger condenser microphones for a more professional setup.
Green Screen: A green screen can be invaluable if you plan to play around with different backgrounds in post-production. This can add a fun and unique twist to your content.
Editing Software: Good editing software can help you polish your videos and photos to a professional level. Some popular choices include Adobe Premiere Pro for video editing and Adobe Lightroom for photo editing.
Portable Chargers/Power Banks: If you're shooting content on your phone, having a reliable power bank can ensure that you don't run out of battery midway through a shoot.
Various Lens Attachments: For those using smartphones for content creation, various lens attachments such as wide-angle, macro, or fisheye lenses can add diversity to your content.
Stabilization Equipment: In addition to tripods, you might also consider a gimbal for stabilization, especially if you plan on creating a lot of moving or action shots.
Conclusion
Succeeding in the world of content creation on platforms like OnlyFans is more accessible than you may think. It's not about spending money on high-end equipment but rather making smart, budget-conscious choices that best serve your creative needs.
By incorporating a variety of props and costumes, leveraging effective lighting solutions such as LED and ring lights, and utilizing sturdy tripods for stability, you can significantly enhance the quality of your content.
Remember, in this journey, your creativity is your most potent tool. The OnlyFan equipment you choose should aid in showcasing your unique style and narrative, not overshadow it.
So go ahead, experiment with the myriad of options discussed in this guide, and witness the transformation of your content. Happy creating!