If you are looking for an easy way to schedule Reddit posts and submit them later at any given time, this guide is for you.
Here, we are going to introduce you the best Reddit post scheduler for all content creators. Delay your posts is never easier.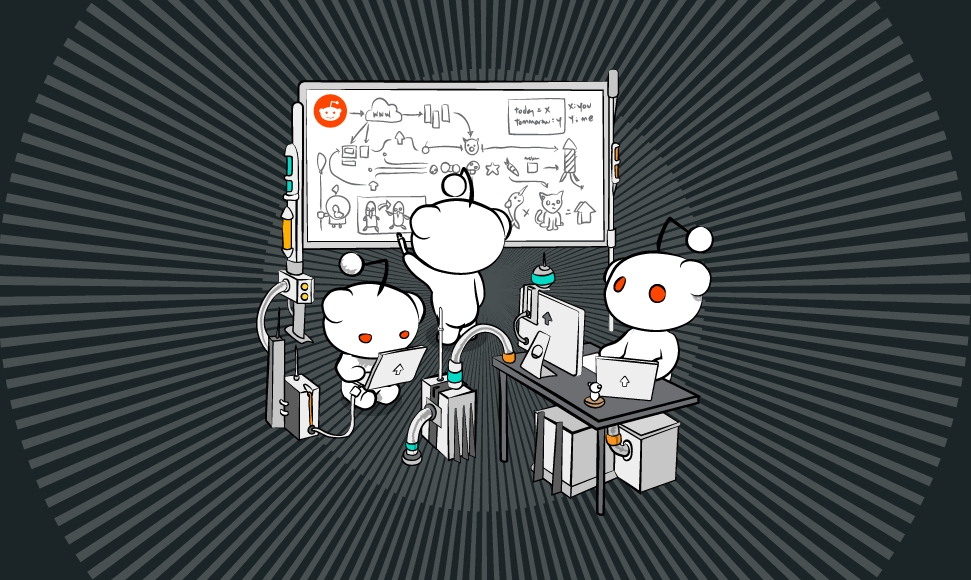 Using our Reddit Scheduler app, you can:
Find new Reddit subs to participate in by posting and leaving comments.
By posting articles that contain links to your other websites, you can earn more traffic.
Reddit submissions can be scheduled to save hours of time every week.
Tracking post performance over time will help you improve your content.
If you are looking for the following goals, we are here for you:
Expanding your audience online.
Produce content online, such as pictures, videos, and blog entries.
Find new communities to interact with.
Monetize your online content.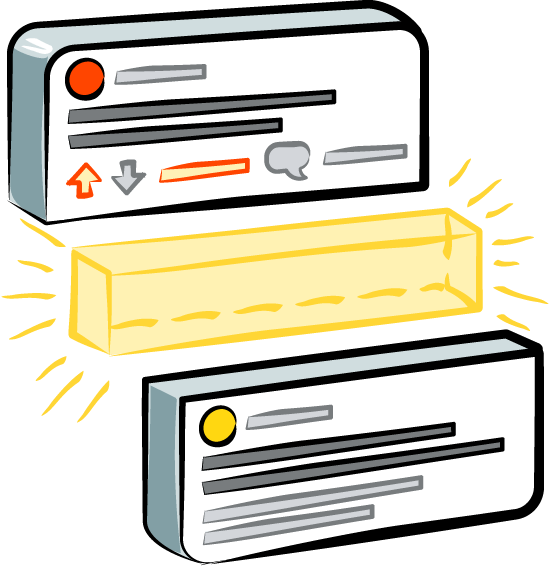 How to schedule Reddit posts & Upvote Them Automatically
0. Sign Up
All you need to sign up for Postpone is a Reddit account. Visit Postpone via the button below:
Use the coupon UPVOTESHOP for 20% OFF your order.
Then, sign up using your own Reddit account: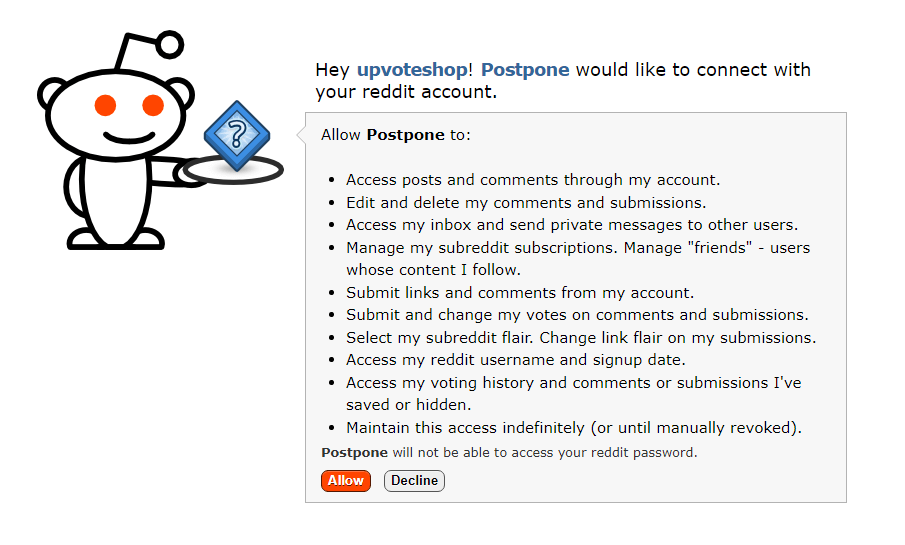 You will be redirected to Reddit, where you will be requested to grant permission to carry out specific tasks on your behalf. For Upvote.Shop to carry out tasks like automating the submission of planned posts, running Subreddit Analysis, or sending DMs automatically, these permissions are necessary.
Reddit will send you back to us after you've approved. After completing the form and selecting Create My Account, you will be registered. You will always have free access to schedule 10 Reddit posts.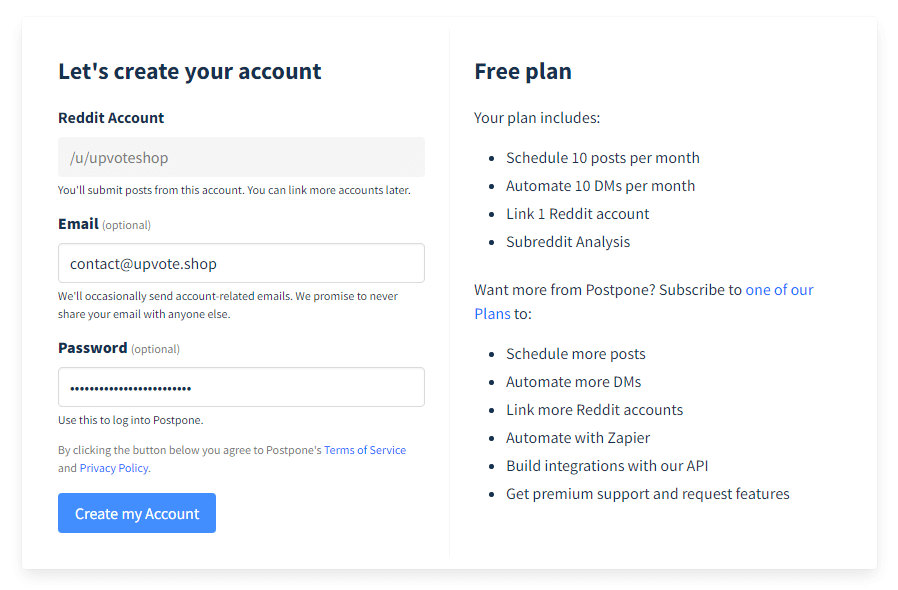 A Welcome! screen will be displayed when you sign up. To ensure that you may continue to access Postpone even if you misplace your Reddit account login information or your account becomes inaccessible, we strongly advise you to enter your email address and password when signing up.
After signing up, go to your profile page, click on the Show token button and copy your API token:

Visit to Upvote.Shop Panel, go to the Schedule Posts (Postpone) on the sidebar, enter your copied API Token there, then press Save:

From now on, you can manage your scheduled posts from Postpone app directly on Upvote.Shop Panel.
Click on the Actions button to buy upvotes for the corresponding posts.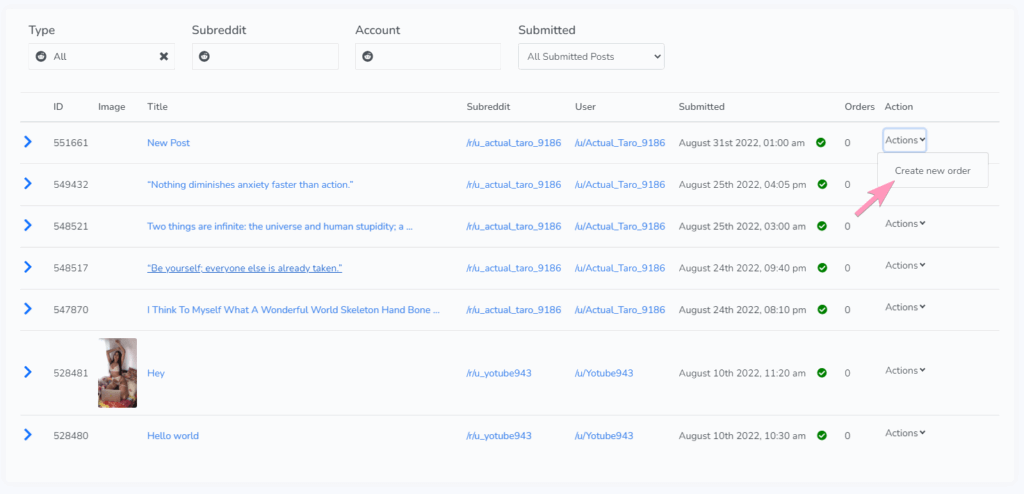 After signing up, you can manage the scheduled posts directly on Upvote.Shop Panel, as well as purchase upvotes for them! The upvotes will get sent immediately and automatically once the post goes live.
2. Choose Content for Submission
Back to PostPone app, In the top left corner, select the Schedule a Post button. You can schedule posts at any time because this option is accessible from any Postpone page.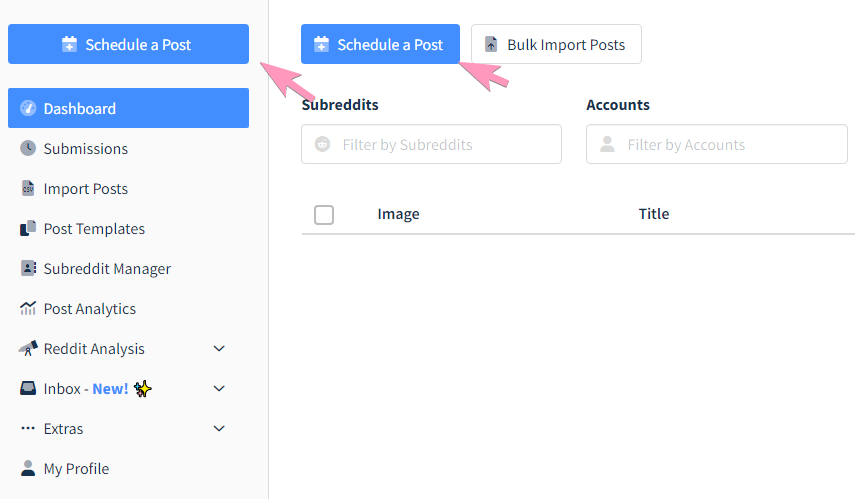 This will direct you to the page where you can set all of the required information to post your Reddit submission later.
We must first specify which Reddit account is the source of the content we are submitting.
You only have one account linked to Postpone at the moment, therefore the Reddit Account field will already be filled out. This is the section where you'll choose which account the post should be submitted from if you link more accounts in the future.
You can choose to either post the content as a post, link, or image.
In the example below, we add a Title and a URL to the post. The heading "Hello world!" and the URL "upvote.shop" will be used for this.
After submitting your article, click the Include a Comment option and complete the Comment section if you'd want to immediately leave a comment on it.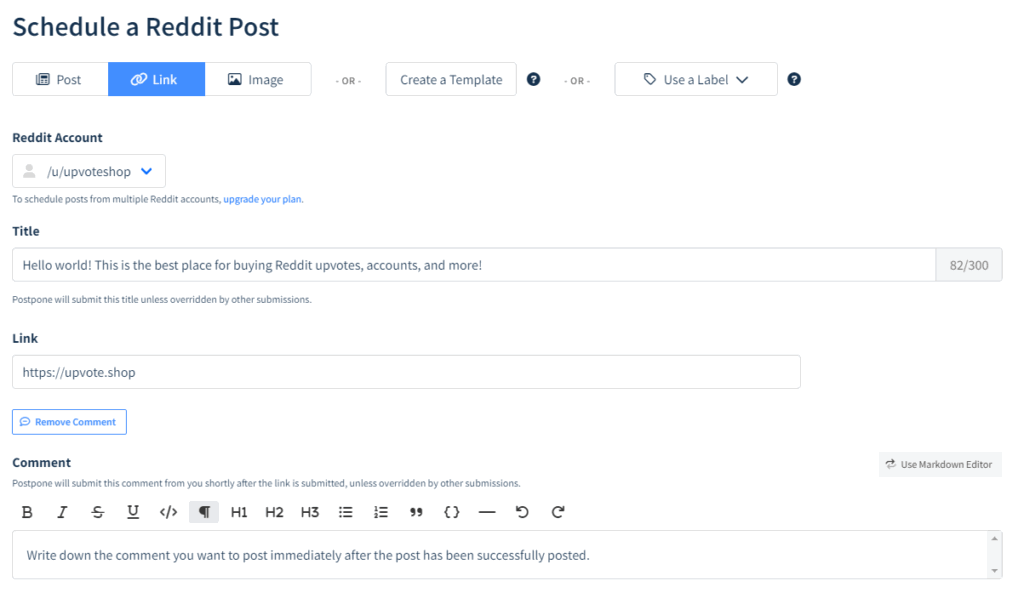 3. Select Subreddit to post the content later
Now, it's time to select specific subreddits after deciding what content you want to submit. This will be done in the Subreddit Submissions area.
The subreddit submission is shown under the section #1 – New Submission. Add the Subreddit first where you want to submit your content to. I'll publish my comment on /r/test for testing purposes.
The Submission Date and Time, which indicate when the post should be submitted, must then be selected. To pick a suitable day and time depending on the subreddit, check out our guide to choosing the best time to post on Reddit, or choose the date and time yourself.
For example, my post will be published on August 22, at 6:15 PM local time.
Click "Submit to Another Subreddit" and enter the additional information if you want to submit the post to more than one subreddit. You can target up to 100 subreddits at different times at once.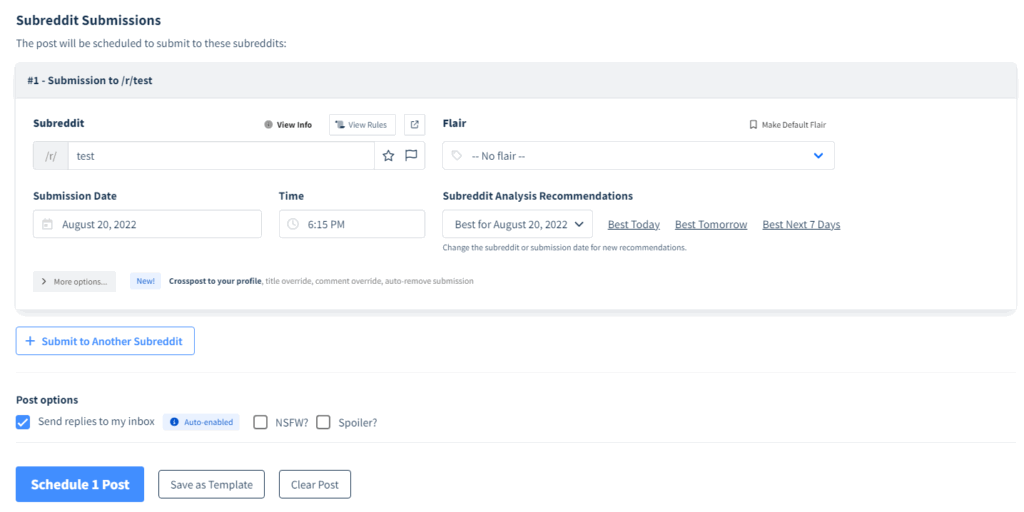 Press the Schedule 1 Post button to finish. You should see "Successfully scheduled 1 submission!" and return to the Dashboard if everything is completed correctly.
You can view all of your scheduled posts here, which haven't been posted yet.

4. Submission getting posted
On the day and time you specified for posting to Reddit, your scheduled posts will go live. There is nothing else you need to do at this time other than wait (ideally near a beach), as Postpone will take care of this for you automatically.
Your post will appear on Reddit once we have posted it, just as if you had manually submitted it to reddit.com.
Your submitted post can also be found on our Panel page as well. To access the post on Reddit, click the post title. Without leaving Upvote shop, you can duplicate the submission to schedule it again or even delete it from reddit.com.
Use the coupon UPVOTESHOP for 20% OFF your order.
4. How to send upvotes to scheduled posts automatically
You can manage your scheduled posts on our Panel directly.
On the Panel, simply click on the Actions button to buy upvotes for the corresponding posts.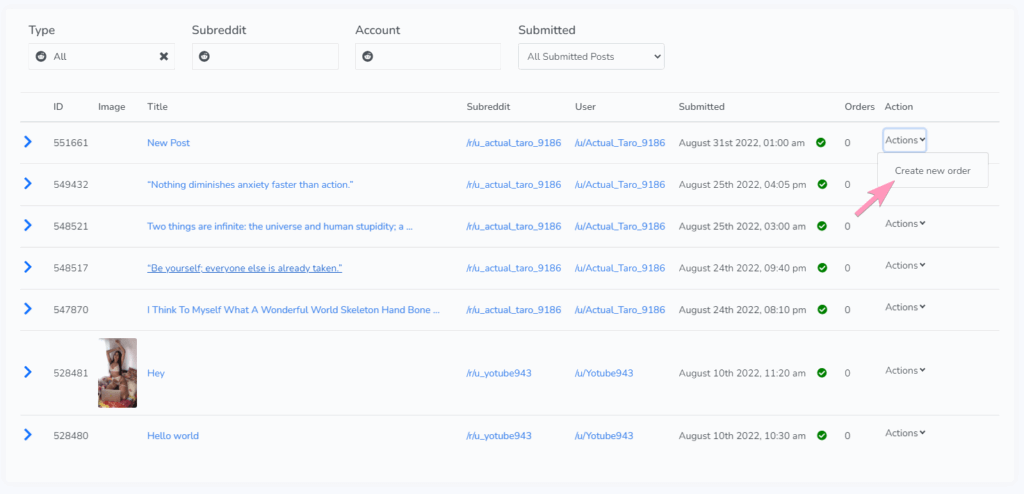 And enter the required details/numbers based on your needs: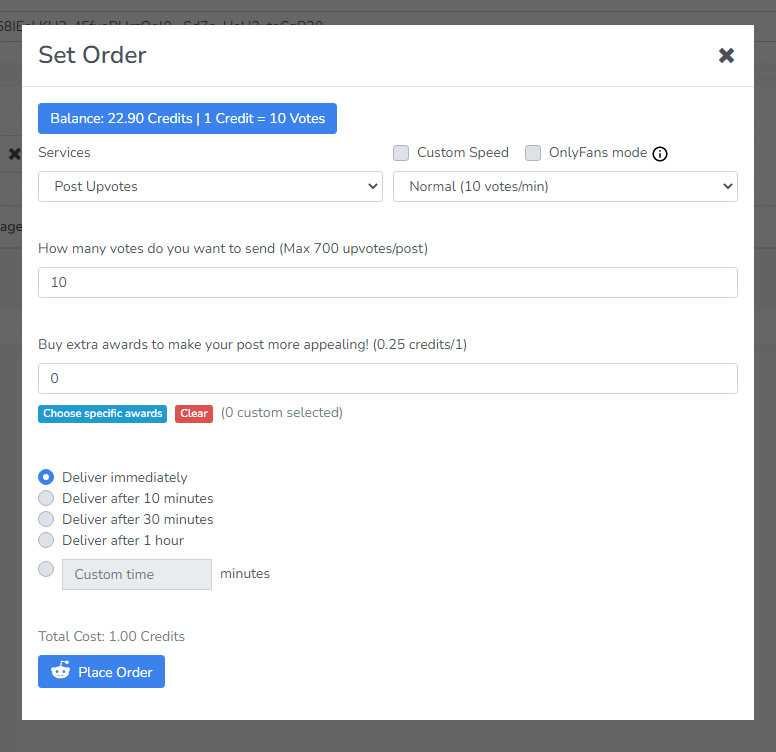 Reddit Auto-Posting FAQ
Can I upload pictures or GIFs right to post on Reddit later?
Sadly, Reddit doesn't support the direct submission of pictures, GIFs, or videos to all subreddits via third party programs ours. Reddit forbids uploading photos to NSFW subreddits in particular.
Also, direct uploading of pictures, GIFs, or videos to NSFW subreddits is only possible through the official Reddit app and website.
Due to this restriction, we allow users to publish posts that are links to pictures, GIFS, or videos stored on imgur.com, redgifs.com, gfycat.com, etc.
If Reddit removes this restriction in the future, we will immediately add support for direct picture upload.
Would my account get banned for using this app?
Reddit's terms of service do not prohibit using a post scheduler, but they do prohibit spamming the site. This is just a tool to assist content creators in consistently sharing their work to the appropriate subreddits at the appropriate times; however, it must not be used to spam Reddit.
Features incorporated into our app prevent you from spamming Reddit and safeguard your account. For instance, we will reschedule your postings until it is safe if Reddit advises that your account slow down on publishing.
Is it safe to use Postpone to delay posts?
Yep! The bare minimum Reddit permissions are needed for Postpone to perfom all of its functions.
Below is the full list of permissions (or "OAuth scopes") that Postpone requires along with the explaination for each:
submit – This is required to post new submissions from your account.
flair – Required to lookup subreddit flairs and to help you select the most suitable one to use. In some subreddits, selecting flair before posting is required.
identity – Required to access your profile for your basic public information regarding analyzing your posts and comments.
read – Required for searching subreddits.
privatemessages – Required to send direct messages from your account if you usethe auto-DM feature. If you don't want to use this feature, we never read your messages, nor send anything using your account.
edit – Required to remove your post when using the auto-post removal function. We never remove your posts without your requests.
vote – Required to upvote and downvote comments via the Post Replies feature.
Do note that, none of the permissions above allows us to modify or remove your account and your password. All of them allow us to post submissions on your behalf and, if you utilize DM automation, (optionally) send DMs as well.
Conclusion
Using our application for posting your Reddit submissions later is totally safe to use. It is impossible to face anything harming your account for using our app.
Remember that, this app is just for managing your posts and easier. If you want to be successful, content is the key.
You never want to spam and always follow the subreddit rules to avoid getting banned.
By combining buying Reddit upvotes with the function auto-posting function on a schedule, you easily skyrocket your revenue, and turn your business into a real powerhouse. All you have to do is just to create great content, schedule posting it and upvote it to the top is our job.