If you have already known how basically Reddit works, the next question that most people usually ask us should be "What is the best time to post on Reddit?"
If you are having the same question, in this article, we are going to give you the best answer for it. And from there, you can easily align your work to have the best possible results whenever it comes to Reddit marketing.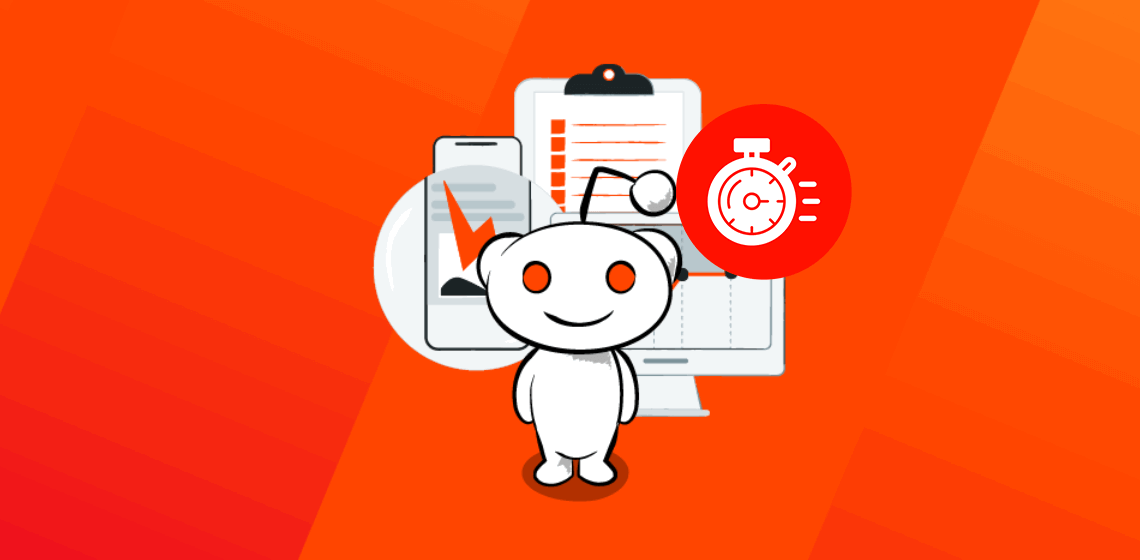 For new users, Reddit could be a bit confusing and hard to use. And it really you to test out different strategies, but once you've known how Reddit works, you will get paid off very well. We believe that our Reddit panel definitely helps a lot of users to get started on Reddit a lot easier and start earning revenue without a lot of works.
And now it's time to optimize your works further more and to make the most of our Panel.
Why do I need to care about the best times to post on Reddit
When understanding the best time to submit your Reddit posts, it will be a lot easier for you to have it approaching to a lot more audience, and eventually bringing you more leads or traffic.
During the hottest timeframe, there are millions of potential users browsing Reddit, and if you get into their eyes at least once, it could be a huge opportunity for you. This would also put you into the best possible environment regarding maximizing your content and marketing strategy, effort.
What is the best time to post on Reddit?
According to our test, the best time to post on Reddit is from 7 A.M to 9 A.M EST, Saturday, Sunday, and Monday morning.
But it's just not that easy.
You want to make sure that you understand your audience thoughtfully from bottom to top, you know what they really want to see, what their social media habits are, what they interest, etc.
After understand and providing the best content for the targeted community, you want to time your post properly. Grab a good Reddit account if you haven't, boost it with our Upvotes, and you will be getting noticed.
Make sure to check out our Reddit Schedule Tool as well to post your Reddit posts later in the future at a specific given time and automatically.
The mentioned time is when your posts would perform best, as it's when Reddit has the most users online from all around the world, especially users from the Tier 1 countries. And you want to rank your post as soon as possible during this time, helping it reach to the top of the HOT section and get a huge load of traffic.
With that said, as most Reddit users are from the US, and if you are only targeting people from outside the US, you want to adjust the time accordingly. We are going to give you some tools below as well to get this done easier.
In the end, you will eventually know which are the best Subreddits for your projects, and which are the best times to make your posts on them.
Best Store for Buying Reddit Upvotes, Comments, and Accounts!
Best Times to Post on Reddit by Day
Monday: 6 AM to 8 AM US central time.
Tuesday: 6 AM to 8 AM US central time.
Wednesday: 6 AM US central time.
Thursday: 4 AM to 8 AM US central time.
4 AM to 10 AM US central time.
12 AM to 2 AM and 6 AM to 4 PM US central time.
Sunday: 6 AM to 10 AM US central time.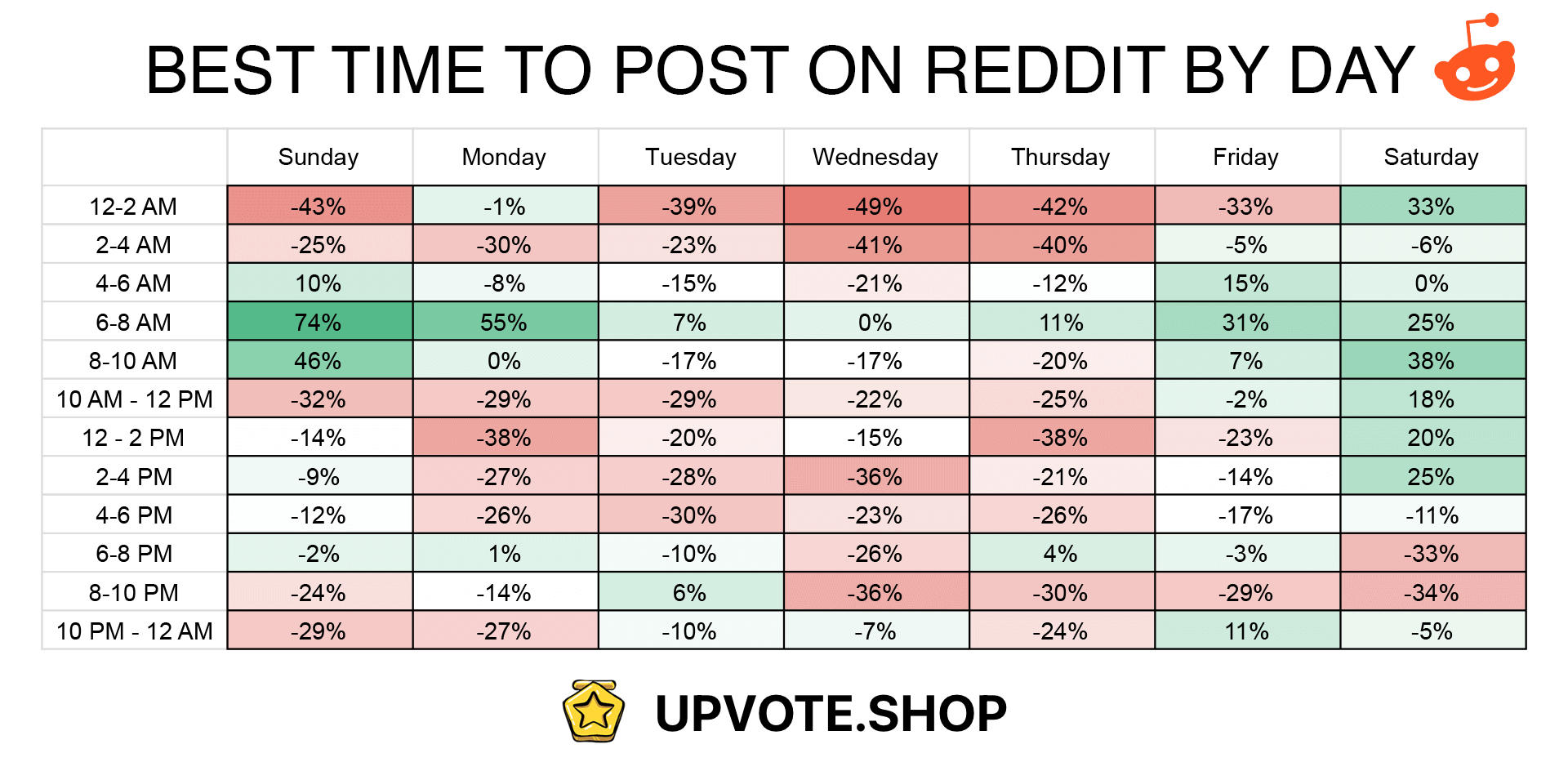 Most of the Reddit users are from the United States, so you want to understand the time they online to most to make the most of your Reddit.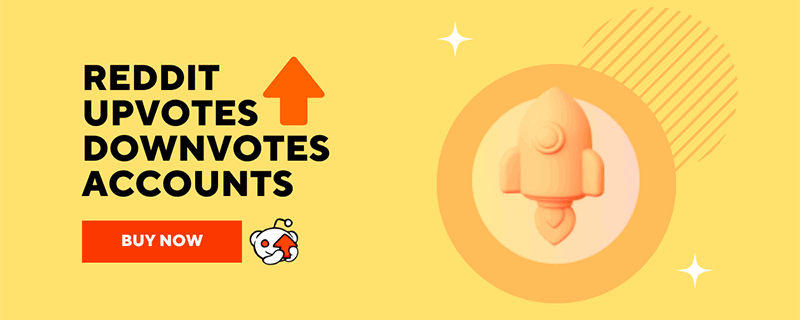 As you can easily see from the table above, the best times to submit your posts on Reddit are mornings on Mondays, Saturdays, and Sundays. Actually, if you post during these times, your post could get from 15% to 50% more views comparing to the other times during the day, or the week.
The main reason behind this study is that people usually use Reddit for checking news in the morning, and spending a lot of time to discussing with other people on the weekend as Reddit is forum-like community.
Best Tool For Calculating Posting Time
When it comes to analyze Reddit posting time, our to-go tool is the Delay for Reddit tool, which is very easy to use and straightforward. You simply just need to type in the name of Subreddit you want to target, and it will show you the best time to post there.
Below is an example, as you can see, the tool analyzes that the best time to post on r/funny is on Sunday, around 1:00. There are some several other best times as well, such as 22:00 Thursday, 21:00 Friday, etc.
The darker tiles are the better time you should focus on. The while tiles are the worst time to post on Reddit.
If you want to go a bit deeper, take a look at their Top Post Analysis tool which shows you the top posts created in any specific hour/day of a targeted Subreddit, in details.
In short, this tool is very helpful and straightforward. Definitely one of the best tools you could ever find for finding the best period of time to post on Reddit.
Why the best time to post on Reddit is different from other social media platforms?
A lot of people usually think that the best time to post on Reddit is very similar to Facebook, Instagram, and Twitter. However, it is totally different.
The middle of the working week is not the best time in the week to post on Reddit. There are a lot of users being online during these days actually, but most of them don't even have enough time to interact with the other people on the platform.
Reddit users are also known as a very-high-quality ones. They usually want to spend a lot of time, or at least enough, to check all of the submissions fully while also interacting with other users in the same thread. This is also why Reddit traffic tends to convert higher than the others.
Also due to how Reddit works, where hot topics get featured on its subreddits for 24 hours, posting in the morning gives people enough time to interact with your submissions during the day, giving the chance of it getting more upvotes in general.
The study above ensures your post can get to most US users in their mornings, as US has up to 6 different timezones. It will be very likely that they will be able to see your posts a few times during the day.
Should I Submit Post on Reddit on working days?
As mentioned above, according to our researches, posting on the weekend mornings is the best for all Reddit contents as users have a lot more time to research and understand more about your businesses.
There are still some researches saying that Reddit has the most traffic during the working days. However, not all users have enough time to do anything rather than just surfing through the newsfeed quickly without doing any interaction with your posts, even upvoting it.
Reddit is an US social media platform, and most traffic is coming from the US. If you still want to post on Reddit on the weekdays, it's best to do it during their lunch break time, from 10 AM to 12 PM. This is the most optimal time as it will give you enough time to get some initial upvotes, brining your posts to the top of the hot section, and once people going online during the lunch, they will see your submissions immediately.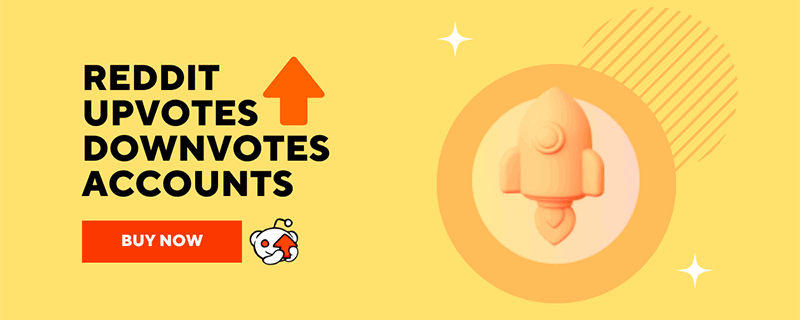 If you ever find it hard to get the first upvotes for your posts, don't hesitate to get some upvotes from our Panel. It will help you a lot, for sure.
Should I Post on Reddit on weekends?
Even though some Internet marketers might think that most people are on their computers and phones while working, most of them don't have enough time to interact with your submissions, especially if the workload is high. Do note that people with high workload might convert the most and are the highest quality users.
This is also why you can notice that you don't have as many comments during the weekdays.
Remember to submit your posts on the mornings so you have the chance of getting seen by US people during the entire day. It's recommended to reply all of the comments you have to keep the momentumt running.
Best Time To Post on The Top Subreddits
1. r/Askreddit
r/Askreddit is no doubt one of the best subreddits on the platform. This is where people ask interesting questions and receive insightful answers. It's one of the most controverting subreddits on Reddit.
If you want to post on r/AskReddit, it's best to post on Friday (around 8 AM), Monday (around 7 AM), and Friday (around 1 PM).
You can also use the exclusive on Upvote Shop panel to analyze any specific subreddit and post it later.
2. r/Funny
Everyone loves memes and funny stuff. You can get a ton of Reddit karma here without doing a lot of work. It's best to post in Friday noon, around 11 AM, and in Wednesday noon. However, if you have a lot of content to post every day, just post it in the noon.
3. r/Gaming
Everything related to gaming is posted here, from video games, card games, board games, etc. but not sports.
It's best to post on Tuesday 8 AM, Wednesday (2 PM and 5 PM). However, if you have enough content to post every day, it doesn't hurt at all since gamers have no day off.
4. r/Movies
If you love watching movies, or are working in this industry, this is the best subreddit that you want to post on. Any information related to movies you can find on the Internet should be posted here.
It's best to post on Monday (9 AM and 11 AM) and Tuesday (4 PM).
Read more: How to analyze Reddit Posts
Reddit Posting Time FAQ
What is the best time of the day to post on Reddit?
It's best to post on Reddit on Sundays, Mondays, and Saturdays. Post it in the early morning, from 6 AM to 9 AM, and your posts will have a great performance.
Where should I post on Reddit?
Why does it matter when I should post on Reddit?
It's always best to understand the best time to post on not only Reddit but all other social platforms to maximize your effort. If you always find it hard to get your posts to the top, don't hesitate to get some upvotes and bring your posts to the top in no time.
How does Reddit rank my post?
The more upvotes your post game, the higher ranking it has in its respective subreddit. If your post has a ton of upvotes, it will eventually get featured on the Reddit homepage, where all Reddit users can see your content.
Read more: How Reddit Upvote Works and How to Rank Reddit Posts effectively.
Conclusion
n general, the best time to post on Reddit is:
On Mondays, any time between 6 AM and 8 AM
On Saturdays and Sundays, any time between 7-9 AM and 8-12 PM.
The timezone should be based on your customers. If they are from the US, use EST. If they are from the EU, use GMT +0. And so on. Do note that most users are from the US.
However, you don't have to stick to the mentioned rules. You can post on Reddit whenever you want as long as you follow some of our guidelines below. You also can figure out the most optimal times to post on Reddit, based on your business.
Now you understand that each subreddit has their own best time to post. Follow our tips, do your own researches to find the most suitable ones for your targeted audience, while using the tool for posting the content later on Reddit at any given time.
Hopefully, you have found the information shared in this article helpful. Still, do remember that content is king, and upvote is golden. If you have a good enough content and use our upvote system, your post could stick on the first page of a Subreddit for the whole day, giving you all the traffic you could possibly get.