Hundreds of millions people are using Reddit every day and if you don't want to miss the chance to skyrocket your business with a ton of targeted traffic, you want to make a post on Reddit!
If you are new to the platform and don't know how to post on Reddit properly, no worries, we are giving you a lot of tips in this article to get you to the Reddit game as fast as possible!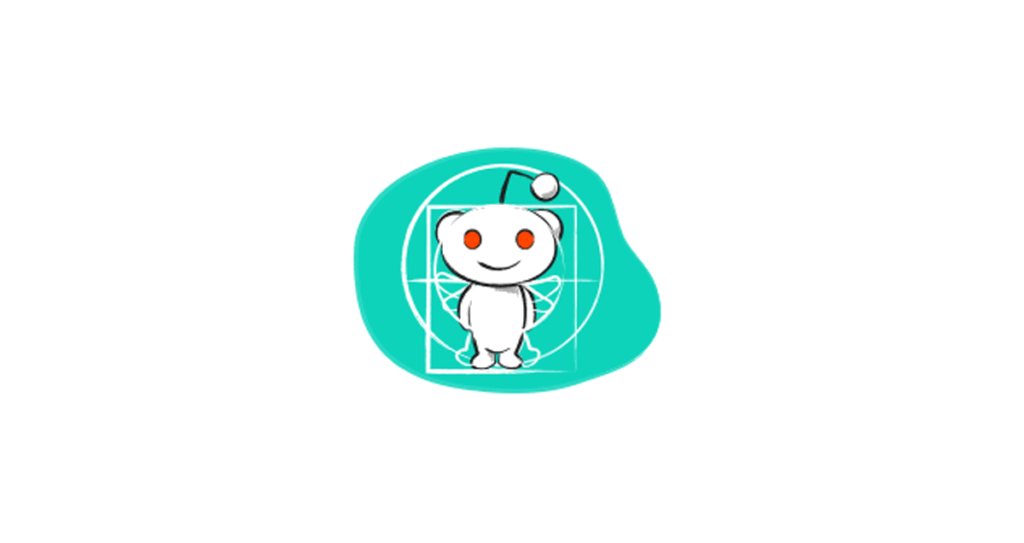 What To Know Before Posting On Reddit
The way Reddit works is not similar to the other social platforms. On Twitter, Instagram, Facebook, TikTok, etc., your posts can be almost always viewed by your followers or friends.
On Reddit, everything is posted under different specific communities, which are called subreddits. These subreddits cover specific topics, and the members of these subreddits pose a serious interest towards the topics they are following.
For example, r/aww is about cute animals, r/movies is for movie discussions, r/CryptoCurrency is for crypto-related topics. There are millions of subreddits available at the moment.
The members of these subreddits can determine whether a post is useful or not by sending their upvotes or downvotes towards them. After 24 hours, the "hot" topics will be moved to the second page, leaving the top spots for the newer Reddit posts.
This helps Reddit always bring the best posts to the eyes of the community.
This can be pretty tricky for all new users, so we recommend you check out the subreddits to see what people are talking about there, and what people want to see before making a Reddit post. This is not to avoid getting your post removed, but also to protect your accounts from getting banned. Always follow the rules of the subreddits you would like to target.
How to Post on Reddit
When you are ready to start posting, just go ahead to the subreddit you want to make the post, then press the Create Post button at the right sidebar. For example, in the screenshot below, we are making a post in r/test!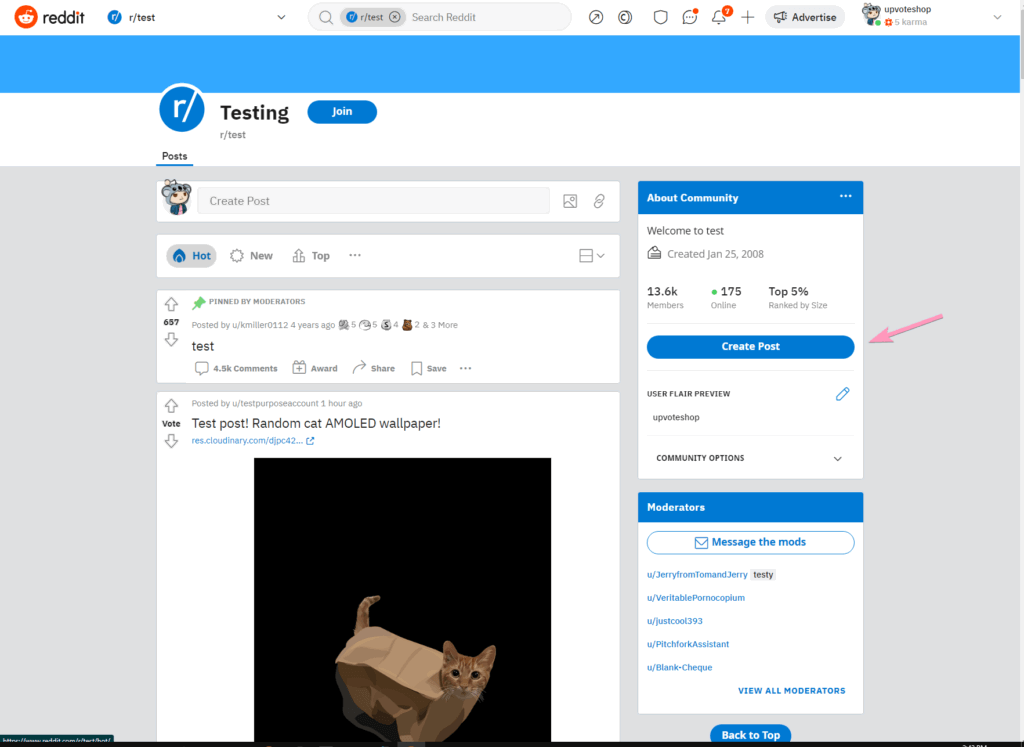 Note: Some subreddits require users to have enough Reddit karma to post.
You are able to make 4 different types of post within r/test: Post, Image & Video, Link, and Poll. Talk is also available for other subreddits if unlocked.
Text Post: Requires Title and the content in the text format you want to post. You can insert links and images in your posts as well.
Image & Video: Upload and display your videos or images directly on Reddit.
Link: Insert a link and give it a title so that people can understand what it is about before visiting the URL. Link is normally the least popular of content on Reddit as most communities don't allow it to avoid spamming.
Poll: Create a poll with different answers to get people to vote regarding any specific topic.
Tips for polls:

Suggest short clear options
The more options, the better
Choose the poll duration
Options can't be edited after post creation
You can check or uncheck the "Send me post reply notifications" section according to your needs.
Make sure to press the button "NSFW" if your content is not-safe-for-work (normally adult content).
Also, select a suitable flair if the subreddit requires you to have it before posting.
Once everything is great, you can press the Post button. Your Reddit post is now live!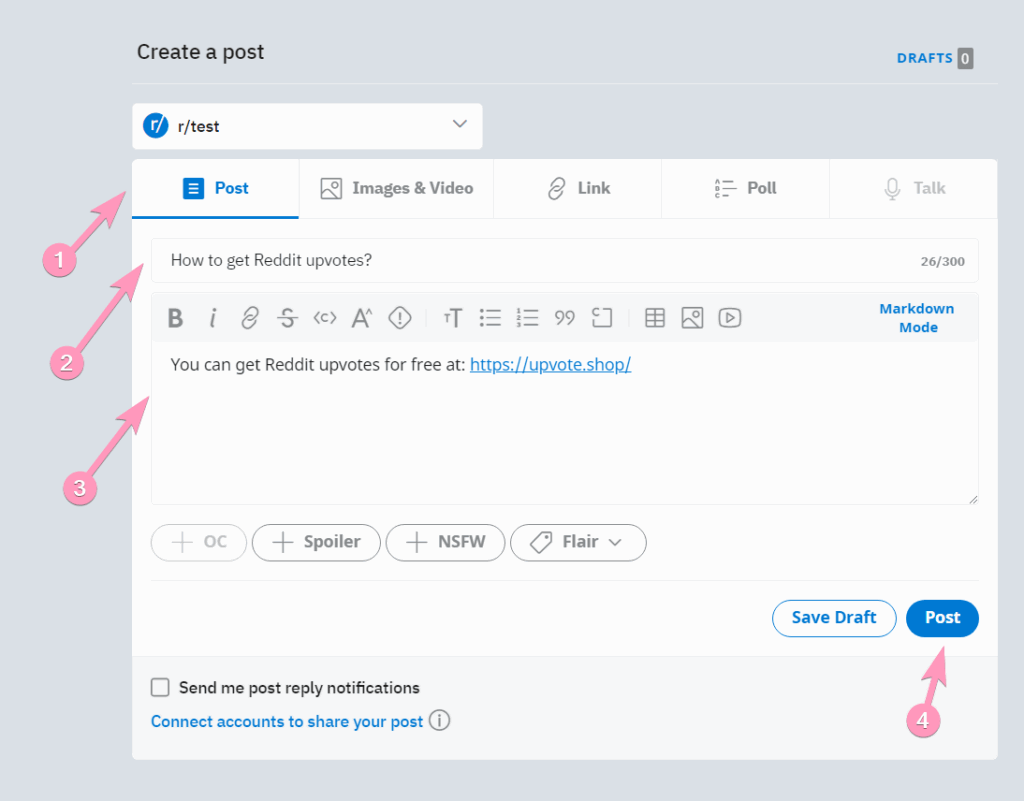 You can also save draft and open it later to continue posting!
If you are using the old Reddit version
If you are somehow like the old Reddit version more (which is slower and harder to use), it is also pretty similar. But once again, we strongly recommend everyone uses the new Reddit theme as it has a lot of life-changing features that could make your life a lot easier, as well as blow your mind (such as Reddit Avatar, Reddit Premium, etc.). The old theme was first introduced more than 15 years ago, which is not suitable anymore.
Go to the subreddit you want to make the post.
On the right sidebar, choose either "Submit Link" or "Submit Post".
Enter the required information then press Submit. Do note that the old Reddit version utilizes the Markdown posting format, which is pretty tricky for all average users.
How to make a post via Reddit App
If you prefer using Reddit app on your phone (iOS or Android) to post content, follow the simple steps below:
Open the Reddit app.
Go to the subreddit you want to make the post.
Press the + button at the bottom of the screen.
Choose the type of post you want to create: Text, Link, Image, Video, Poll, Talk, etc.
Fill out the post with title and the required content.
Make sure to check the NSFW button and flair button if required.
How many people can see my Reddit post?
It really depends on how big your targeted subreddits are, and how high your posts can get. The more upvotes you have, the higher your posts rank within a subreddit.
No worries if you are struggling at getting it to the top, get some upvotes from us whenever you want!
Conclusion
Making a post on Reddit is not hard at all, it is actually very straightforward, but what you want to remember is to check out the targeted subreddits carefully before posting.
You want to make sure you post what people want to see, and follow the rules strictly. This is not because your posts could get removed right away, but your Reddit accounts can be banned any time.
We also strongly recommend you take a look at the following guides to get your Reddit marketing to the next level:
Good luck with your Reddit journey!