Understanding your fans and audience via the OnlyFans Campaign Tracking feature is crucial to becoming successful on this platform. If you are looking for a proper and professional way to skyrocket your revenue, don't ignore this article.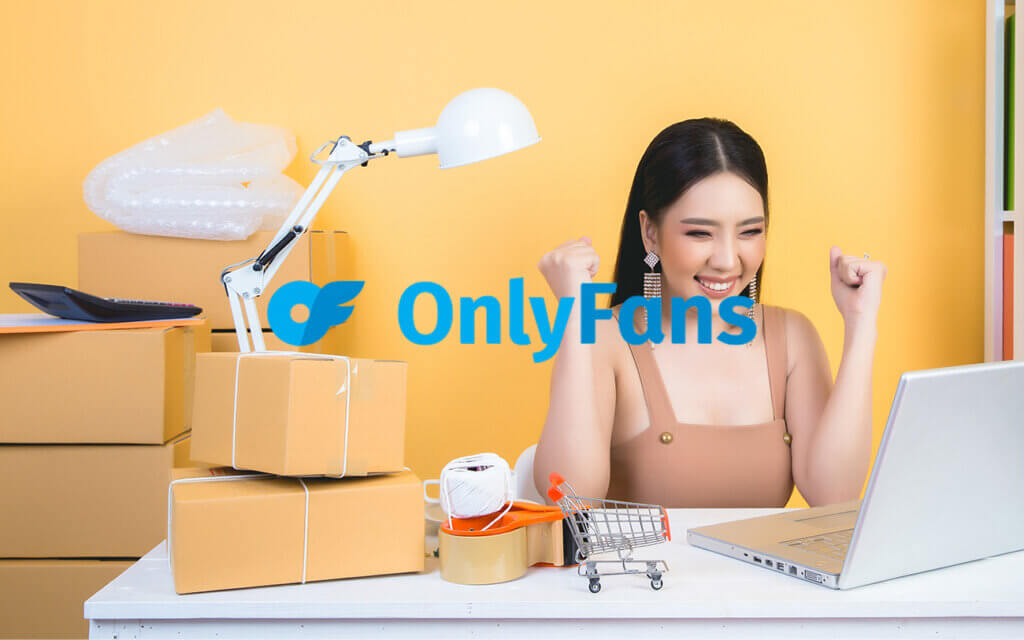 Marketing Attribution
Marketing Attribution is the way marketers assess the value or Return on Investment (ROI) of the channels used to reach potential customers. In the world of OnlyFans, attribution means being able to trace the source of a profile's views and subscribers.
For traditional marketers, understanding where customers are coming from is essential for evaluating the effectiveness of their ad spend. To track this, marketers have to monitor the number of clicks and conversions to determine Return on Investment.
However, until recently, good attribution for OnlyFans has been difficult to obtain.
But this was changed in May 2022.
Thanks to the new Campaigns feature, OnlyFans users can now track which sources are responsible for the views and subscribers they acquire.
Campaigns enables creators to measure the effectiveness of their outreach strategies and answers questions such as how many views and subscribers are received from bought promos, Social 4 Social groups, TikTok, Reddit bios, Reddit subreddits, and Reddit posts, among others.
Why you should use the Campaign feature on OnlyFans
OnlyFans Campaign Tracking is an invaluable tool when it comes to online marketing. By using it, you are able to gain a thorough understanding of the effectiveness of your marketing campaigns and make informed decisions based on the data.
One of the main benefits of marketing tracking parameters is that they help you identify their target audience. By studying the keywords and following the results from specific campaigns, you can better determine which groups of people are most interested in their product or service. This allows you to tailor their campaigns to reach their target audience more effectively.
Another advantage of marketing tracking parameters is that it allows you to track the progress and success in real-time. This data helps OnlyFans content creators adjust their campaigns on the fly, instead of waiting for months to get the final results. With this information, businesses can quickly identify underperforming campaigns and make the necessary changes to maximize their ROI.
Finally, OnlyFans tracking parameters help businesses analyze the performance of their competitors. By studying the results of their competitors' campaigns, businesses are able to identify areas of strength and weaknesses, allowing them to gain an advantage in the industry.
Overall, marketing tracking parameters offer many advantages to content creators engaging in promoting OnlyFans. By using it, you can gain a deeper insight into their target audience, track their own progress, and analyze their competitors' performance.
How to set up OnlyFans Campaign Tracking
Tracking Your OnlyFans Promotions
Are you curious how effective your OnlyFans promotion campaigns are?
Setting up a "campaign" on OnlyFans is a great way to track clicks and subscribers.
Here's how you easily set up campaigns on OnlyFans and get the info you need.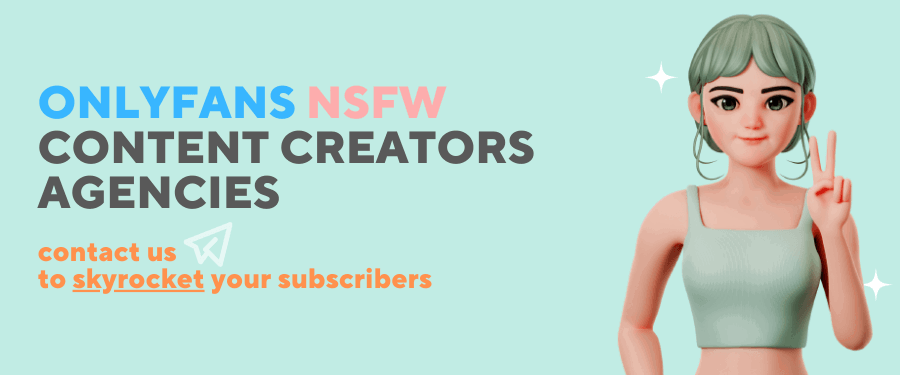 Step 1: Head to the More -> Settings -> Subscription price and bundles -> Campaigns menu on your OnlyFans profile.
Step 2: Create a new campaign. Make sure to give it an easily recognizable name, such as "Reddit bio" or "Twitter post" etc.
Step 3: Onlyfans generates a unique link/URL assigned to your campaign. The link will include a number (eg. https://onlyfans.com/yourUserName?c=1 ).
Step 4: Click the "See report" tab to get the clicks and subscribers count. Clicks count is how many people have clicked on your campaign URL, and subscribers count is how many of those clicked the URL and actually subscribed.
And there you have it – you now have an easy way to track the effectiveness of your OnlyFans promotions!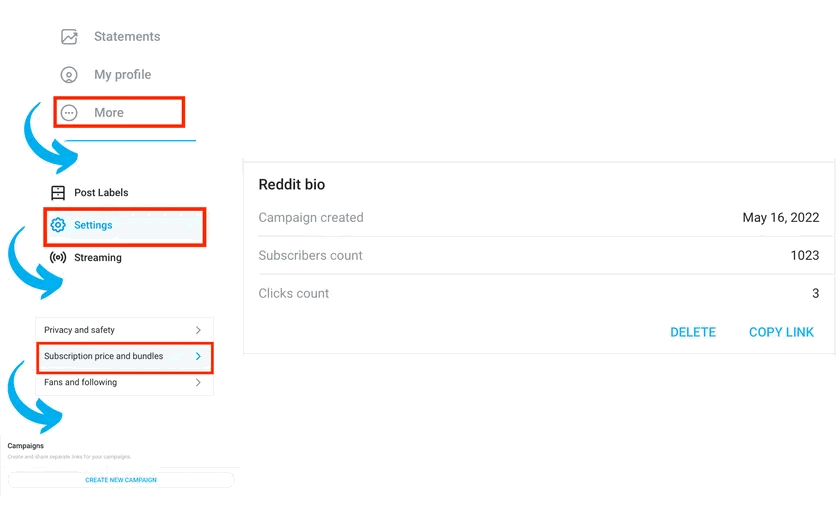 Some OnlyFans Campaign Tracking Examples
Updating your Reddit bio with a campaign link is a great way to track your performance data. After one or two weeks, you can see how many clicks you get and if it results in conversions. For example, if you find that you have loads of views from Reddit but no one subscribes, then you can adjust where you spend your time and money.
Another way to use data to track your performance is with FansMetrics. Right now, you can get 10% off on FansMetrics, allowing you to get in front of 100,000 real people each day, and the best part is that it supports campaign links to track the results of your promotion. Once you've created your link, you can see exactly how it performs.
Understand your OnlyFans Followers with the Campaign Feature
In today's world, when it comes to modern adult entertainment, OnlyFans provides an innovative platform for people to showcase their own unique taste, style, and work. This article will explore why people using OnlyFans have such differing preferences.
First, every person on OnlyFans is their own person. With the amount of flexibility that OnlyFans offers, people are encouraged to create their own individualized content. Each person creates their own page and is free to post whatever they please. This can result in fans having very different tastes and preferences, as there are no set rules or standards.
Second, people have different desires. Just because someone is paying to be on OnlyFans doesn't mean they are all looking for the same type of content. People may be looking for different things; some might prefer more risque material, while others may prefer something tamer. Additionally, different people have different interests and kinks, meaning that content creators can cater to a variety of desires.
Third, the content creators themselves have their own unique style and flair. On OnlyFans, content creators are able to upload and display the type of content they choose. This means that no two content creators are the same, and the audience may be interested in different things about each creator. Content could range from text posts and photos to videos and live streams.
Finally, people are often drawn to the unique personalities of content creators on OnlyFans. Unlike traditional adult entertainment, content creators on OnlyFans are often much more personable and authentic. By being able to converse with content creators, OnlyFans followers can get a better sense of their personalities and preferences.
In summary, it is clear why people on OnlyFans have a variety of tastes. With the flexible options that OnlyFans provides, content creators have the freedom to post their own original content and engage with their fans. This can lead to fans having different desires and interests, as well as connecting to different personalities. It is no surprise that people on OnlyFans have such a diversity of tastes.