Looking for an easy guide to create your own subreddit on Reddit? It's time to create your own community for your brand, business, to cover yourself, any topic you like, or just to have fun with your friends.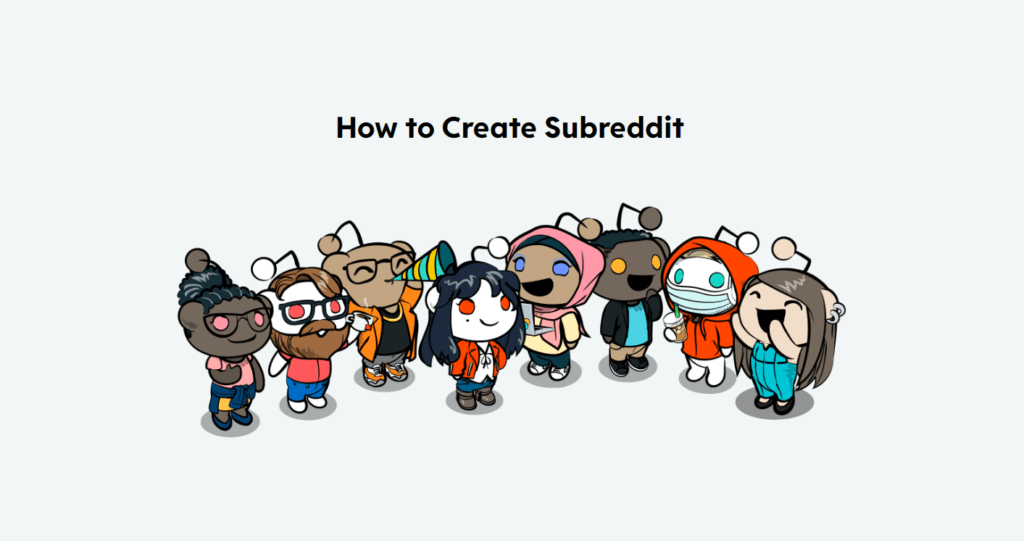 How to Create Subreddits (Community) on Reddit
Preparation: Have an active Reddit account
You can create subreddit with any account, but to prevent your account from getting banned fast (so that you will lose the control), or even worse, your subreddit is removed, you must have an active account.
It's recommended to have accounts with at least 30 days old and have good Karma.
Reddit administrators don't reveal the exact amount of karma, but it isn't high enough to need significant effort. You should be okay as long as you haven't done anything wrong.
Contact us to purchase high quality Reddit accounts if you are looking for creating many subreddits at once.
Step 1: Decide the details of your Reddit community.
Name (Username)
It's critical that you have all the information in mind before you click the "new community" button. Reddit subreddits can't be removed. You cannot have a different name. Everything is permanently.
The most memorable subreddits have the finest names. They are simple, easily understandable, and memorable. Users should be able to understand from the title of your Reddit community what it is all about. Be aware that subreddit username is case-sensitive.
For example, r/BeAmazed

Title
Your username is different from this. This will be your subreddit's heading, which will show up at the top of your page and, if you're using a browser, on the tab.
This can be modified at any time. It may also be significantly longer than the name of your subreddit. The same guidelines apply; make sure it is memorable and catchy.
Topic/Subtopics
Choose the theme you want to have as the core of your community. Reaching a larger audience is made possible by covering a variety of topics or problems. Alternately, be careful to cover all your bases if you have a certain specialty interest.
Step 2: Create Community
It's time to get started now. The right sidebar is where it belongs.
You will see a Create Communty button right on the sidebar of the Reddit homepage.
Although it might seem easy, keep in mind what we discussed previously. You cannot delete your community or modify your username later. The button will appear, and this form will then show up.
Name
21 letters and Case-sensitive.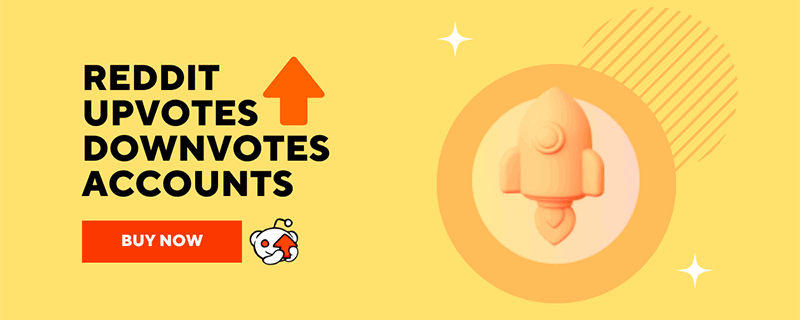 Names cannot have spaces (e.g., "r/bookclub" not "r/book club"), must be between 3-21 characters, and underscores are the only special characters allowed. Avoid using solely trademarked names (e.g., "r/FansOfAcme" not "r/Acme").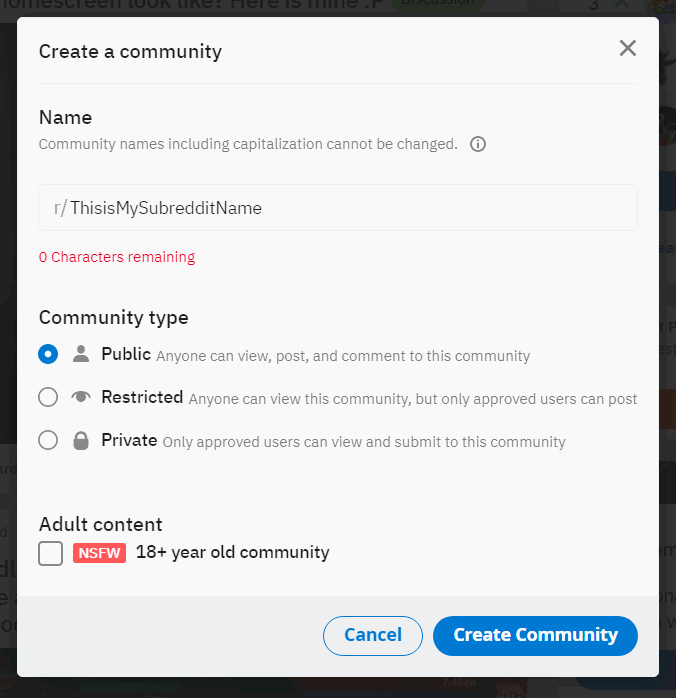 Type of Community
Depending on the information or topics you want to talk about, there are three categories.
Public: Everyone can access and engage with your community if it is public. Perfect for subjects that appeal to a variety of audiences. or groups that seek guidance on specific challenges.
Restricted: Everyone may view a restricted page, but only authorized users may participate. This is a good choice if you want exclusivity or content with adult or mature topics.
Private: Private communities are those that only you and people you approve can access.
Adult content?
By ticking this box, you can restrict access if your topics deal with mature material. Users that are below 18 cannot view or join your community.
Now, review all of the information again before pressing the create community button. Even though it's already bothersome, I believe fixing any errors you committed after starting your subreddit will be a bigger pain.
Step 3: Fill up the details for your subreddit profile.
It's time to fill the gap right now.
Right sidebar
This is where people can find out everything they need to know about your community.
Here, you can list both your community's description and its topics. It's crucial to include rules here as well to keep everything under control.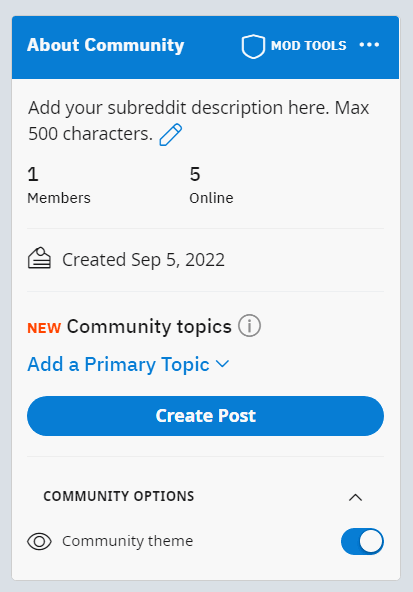 Now locate your community settings if you wish to make more specific changes. Clicking on the mod tools will get you there.
Once there, you can change everything you want, including the community settings and post and comment settings.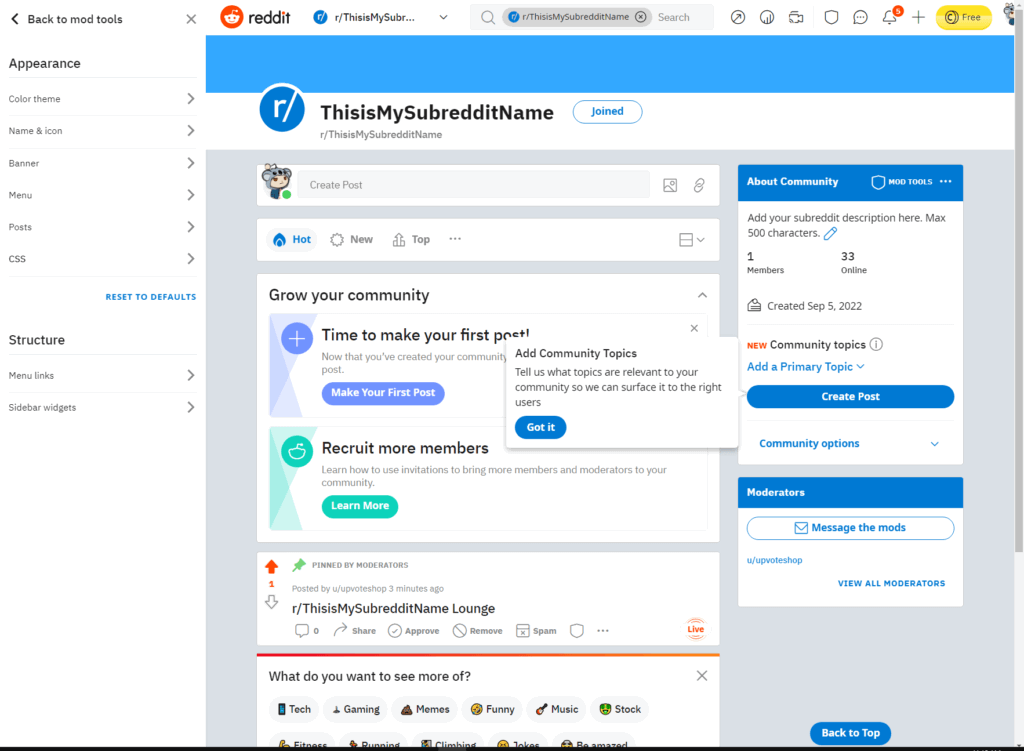 Community Appearance
This is your subreddit's next crucial section. visual parts. You want a banner, logo, and color scheme.
Find an icon that will stand out to your fellow Redditors in order to start a successful subreddit. The settings are immediately below community settings.
Step 4: Get familiar with the moderators
As soon as you start your community, you take on the role of moderator. In other words, you have unique control over the subreddit's comments and topics.
Always keep in mind that a healthy community is one that has been thoughtfully and properly regulated. Learn how to use the tools, such as marking comments as spam or removing submissions.
Become a great mod/admin, and improve the quality of your community.
Step 5: Promote your initial posts
This is the fun part now! Initially posting. Enjoy your pleasure by clicking Create Post.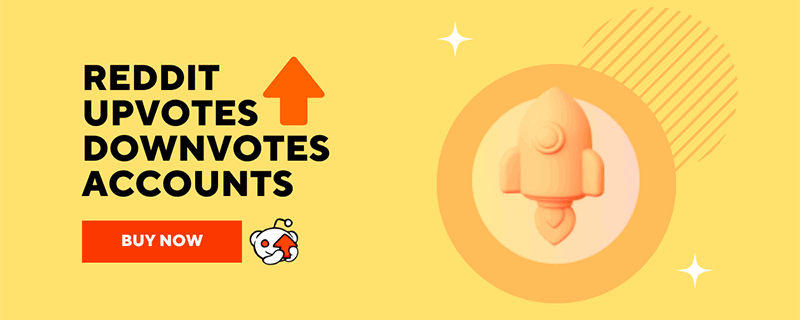 Start a conversation or publish a captivating picture. Alternatively, if you run a company or are a brand, having an active subreddit can help you appear on other subreddits and increase your visibility.
Creating interesting articles is a powerful strategy for converting subreddit traffic into business opportunities (imagine being on the front page).
Read more: How to Grow Your Subreddits With Ease
The conclusion
We at Upvote Shop provide a complete package for Subreddit Development if you're interested in working with a group of content specialists to construct your subreddit.
We'll support you at every stage, from selecting the most suitable community name to producing interesting daily content. Just contact us, let we know what you want to archive, and we will start delivering the results!
Let's make yours one of the best subreddits!