Ever wondered what the top 10 most upvoted Reddit posts of all time are? We've listed the greatest of all time (G.O.A.T) on this page and you will surely find some interesting posts that could make your day, and maybe some interesting ideas for you to create the contents on Reddit in the future!
There are a ton of posts can get it to the front-page of Reddit every day, but there are only just a few of them can change people lives, or stay in their head forever. Although it's nearly impossible for any service to get your submission to the top of al time, but our upvote services can surely help you bring your posts to the hot section of any targeted subreddit (If you are looking for earning money with Reddit).
Without further ado, let's get started!
The Most Upvoted Reddit Posts In The History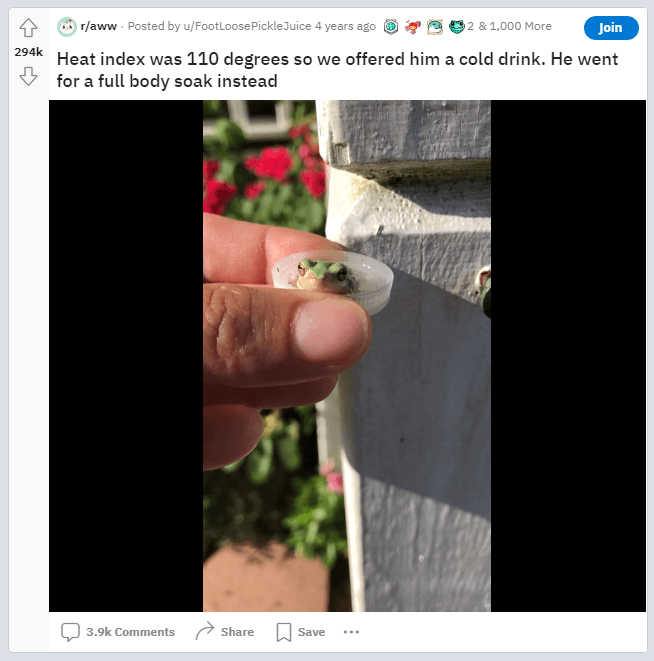 This is a super cute video from u/FootLoosePickleJuice showing he giving a poor tiny frog a small bottle cap of cold drink. It's nothing huge, but it could definitely make everyone happy, especially the frog.
Looking at how the frog jumping into the cap could make me smile all day!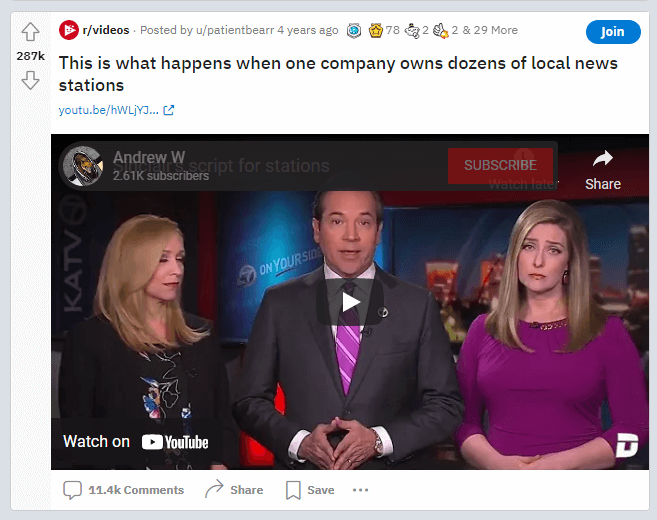 This is an super interesting video showing that all of the MCs on a lot of different TV channels using the same script. This is probably because they are from the same mother company so that they do this to cut down the effort when it comes to preparing the news. When it comes to Youtube video, this is the most popular one on Reddit.

Super interesting and cute video from u/iH8myPP explains how Reddit works in a funny way, based on a short scene from the movie Guardian of the Galaxy.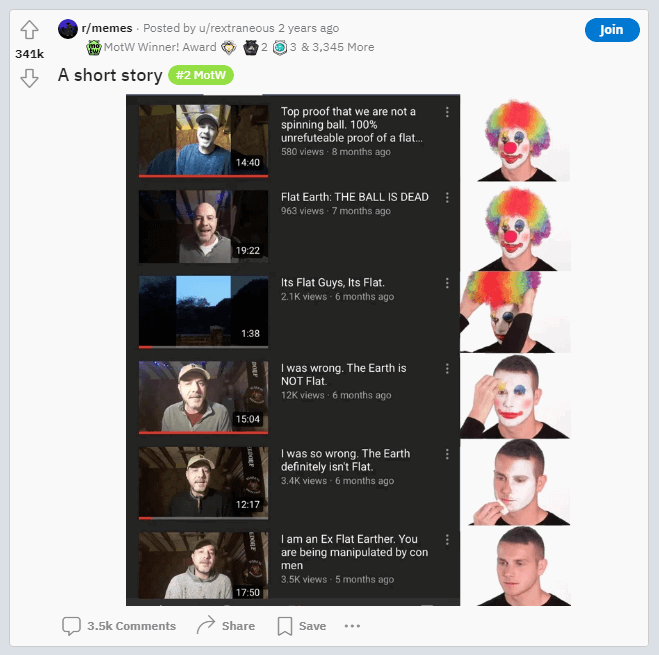 A funny meme post telling a story about an interesting Youtube Channel via just the titles of the videos… Just take a look at the image above and you will see why it gets a ton of karma. This is also the most upvoted meme in Reddit.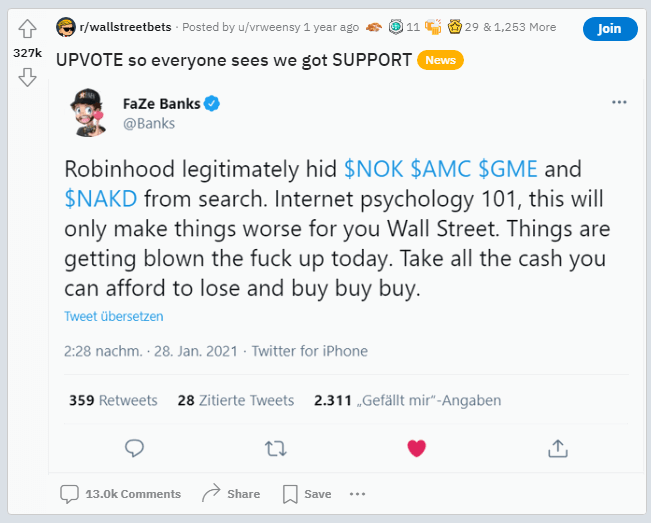 Here you go, the first post from r/wallstreetbets on this list. The post explaining the situation when (seems like) Robinhood trying to hide something from their search system to calm down the market. The power of financial community is just crazy.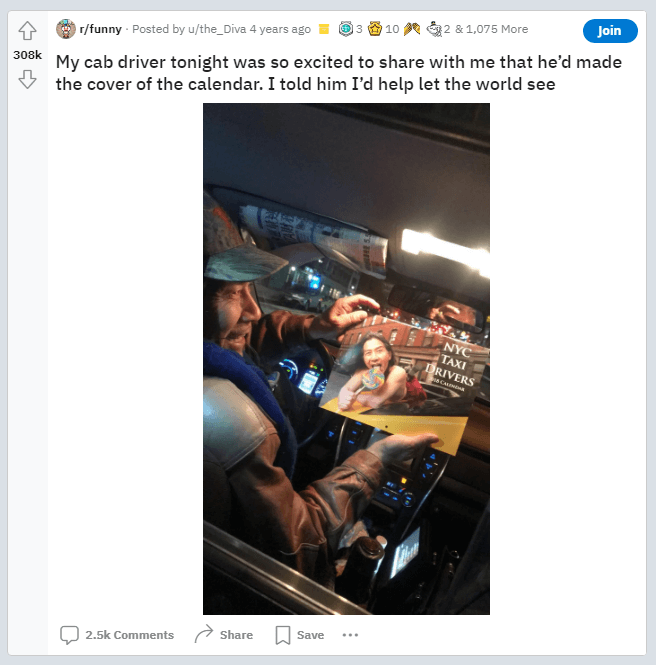 This is definitely one of the best real stuff that you could ever seen on Reddit. The car driver has an insanely crazy great calendar cover where he is the main character of it. This is like a Hollywood-level cover. It looks real more than any movie poster.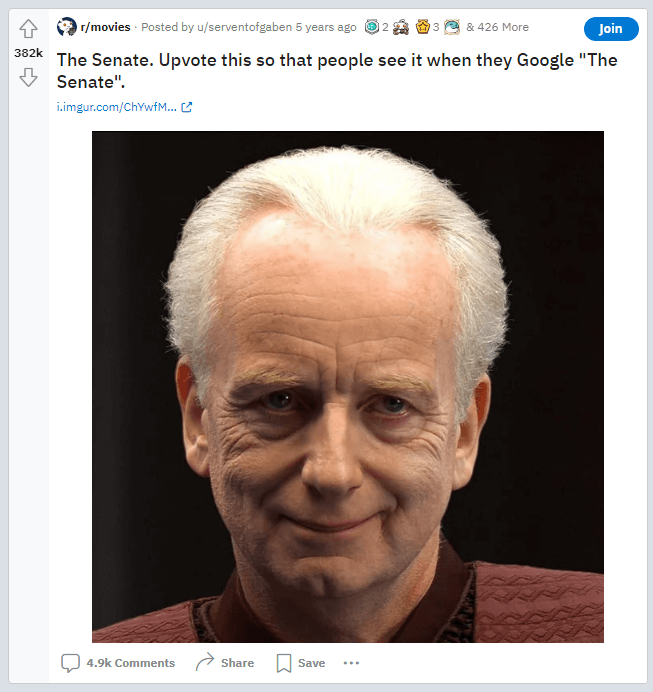 It's needless to say that Star Wars has the best fandom on the earth. And it's also unimportant to show how power the community is. But here you go, a Star Wars meme made it to the top 5 of the most upvoted Reddit posts. That's enough to show how crazy this is.
If you don't watch any Star Wars movie yet, we strongly recommend it! (May the force be with you).

People always wants to know who is the new president of the United States, no matter if it is 2022 or 1900s. And yeah, the more people use Reddit, the more attention such news like this gets.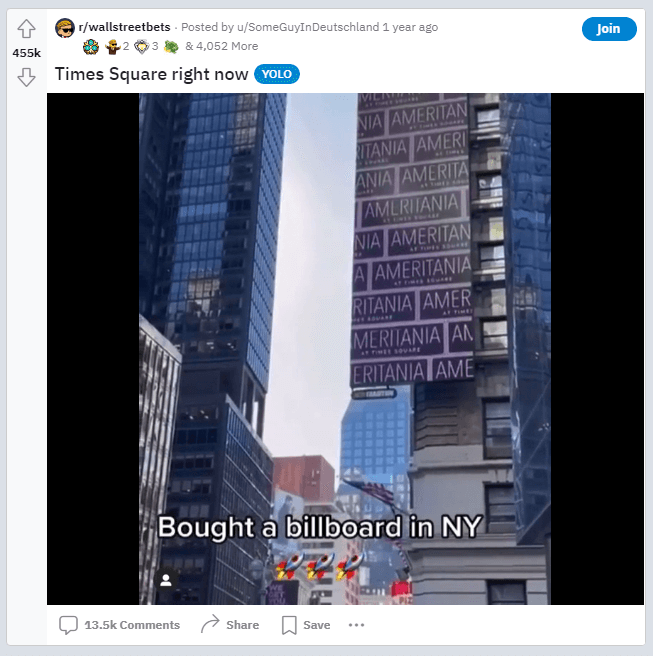 Another r/wallstreetbets post. It's unnecessary to say how crazy and powerful this community is. Ever wonder what rich people could do with their money? What about buying a billboard in Times Square?
Whether you were born in 60s, 70s, 80s, 90s, or 00s, you always love Rick Astley. Why? Because his songs are great, and he has the greatest memes on the Internet, Never Gonna Give You Up.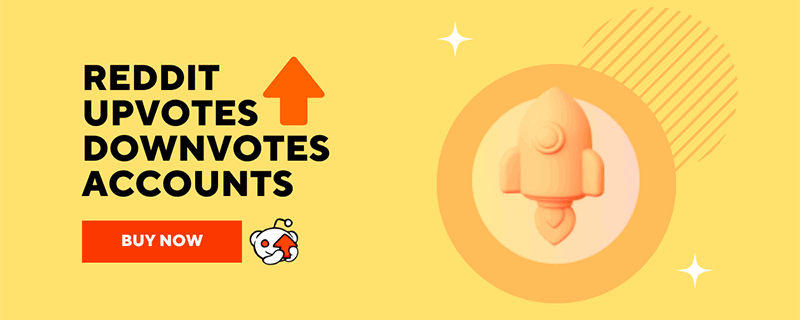 Ever wonder how he looks like back in 80s, during his first tour, when he was super young and people didn't even know what meme means?
Welcome to the Internet!
Conclusion
As you can probably notice, there are various of different topics and subreddits on the top 10 of the most upvoted posts above. This doesn't mean you can rank any post from any topic to the top, but it could give you some great ideas with it comes to making contents on Reddit.
As long as your content is interesting, creative, and new to people, you can rank it to the top of any targeted subreddit using our Reddit marketing tools.