If you are looking for a way to add links into your Reddit post with anchor texts to promote your business, product, or simply to SEO your web page, you can find all the details in this article.
Adding hyperlink on Reddit is not only an internet marketing trick but is also a great way to make your post more clean and appealing.
What is Hyper Link and Anchor Text?
Anchor Text is the text you use to add your link to.
Hyper Link is the highlighted text which is clickable.
For example, this is a hyperlink: Upvote.Shop
How to Add Links in Reddit Posts and Comments
Log into your Reddit post.
Go to the Submit Post or Submit Comment section.
Write the content you want to post. Make sure you follow the general Reddit rules as well as all the specific rules of the targeted Subreddits so that your contents will not get removed, and your account will not get banned.
Select the text you would like to use as the anchor text with your mouse or use your shift button with the right arrow button.
Press the link button on the editor.
Insert the URL you want to link to.
Your selected text should now be the hyperlink with selected anchor text.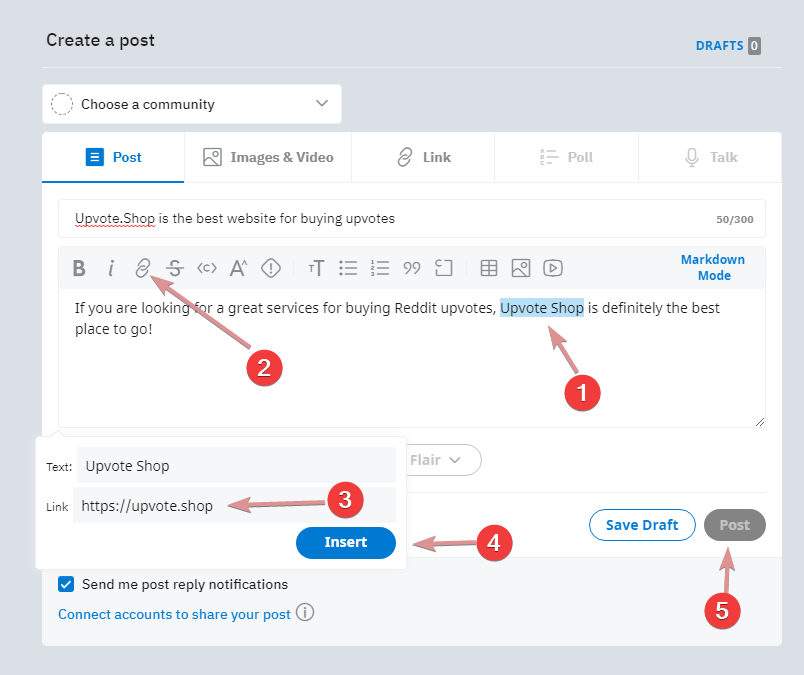 Read more: How to create dofollow links on Reddit
Conclusion
Your post or comment should now be a lot cleaner. People will also understand which webpage they are going to by checking the anchor text. You can also take advantage of this by playing some words but don't use heavily clickbait.