Ever thought you could make money just by being an active Redditor? Well, now you can!
The Contributor Program is Reddit's latest initiative that allows users to earn real cash for their posts and comments. Whether you're lifting spirits, sharing intriguing stories, creating helpful bots, or even making cheeky posts, you can get paid for it.
All you need to do is meet certain eligibility requirements and hit minimum karma and gold benchmarks. Once you do, you'll go through a quick, one-time verification process to set up your payments.
Table of Contents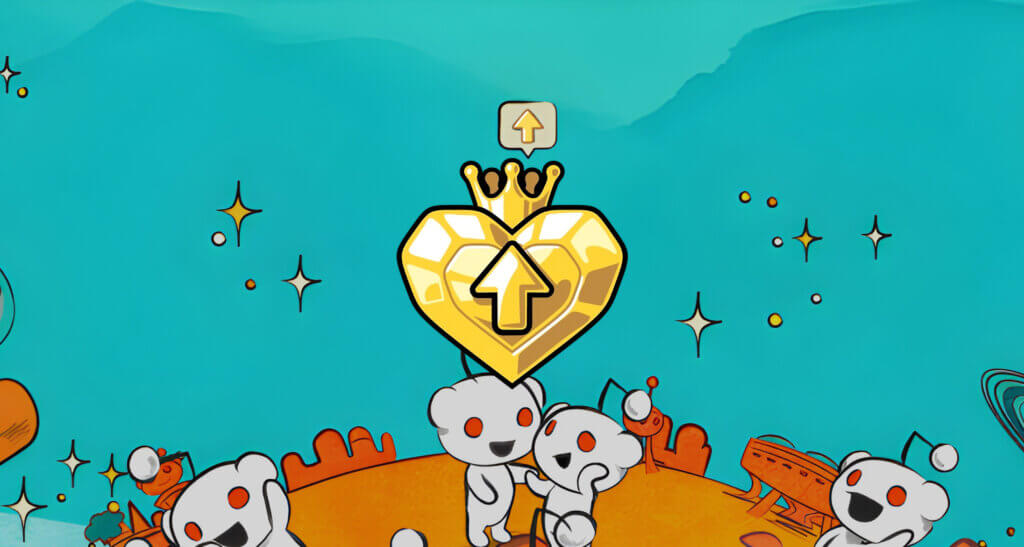 What is Reddit Gold Upvote?
Reddit Gold Upvote is the new kind of award that Reddit users can purchase and give them to the contributors they love amongst different subreddits. Contributors who joined the Reddit Contributor Program can earn money just by collecting Gold.
Reddit is making it even easier to give

gold awards to posts and comments you love. To do this, just long-press the upvote button on your phone or hover over it on your computer. It's that simple.
A menu will show up with six different gold award choices, starting at just $1.99 for a single gold and going up to $49.00 for a bundle of 25.
Once you give a gold award, a golden upvote icon will replace the standard one. And don't worry, you'll still rack up karma from regular upvotes.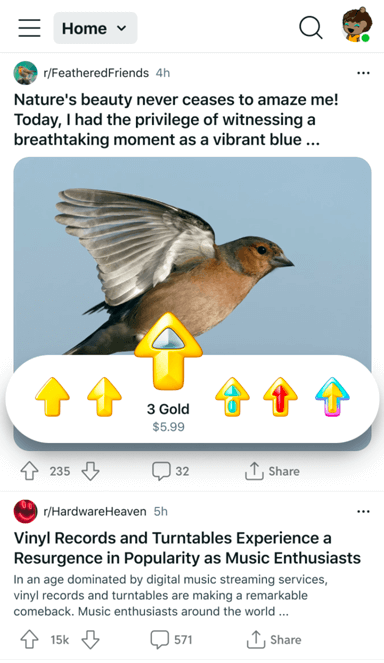 Starting today, this new gold feature will be live on Reddit's native mobile apps and in select subreddits. Reddit will be adding more communities soon and launching the feature on the web later this year.
Gold can be awarded to both posts and comments, except those that contain sexual or violent content, or touch on mature themes like alcohol or gambling. Also, you can't get gold for posts in NSFW, quarantined, or trauma support communities. Your personal profile page is off-limits for gold awards too; they can only be given within communities, feeds, and individual post pages.
Before, you could give out a variety of awards, not just Reddit Gold. This included unique awards for specific subreddits. But as of September 12th, Reddit Coins are ended, so they can't be used in the new gold system.
When asked why existing coins couldn't be transferred to the new system, Reddit explained, "Mixing paid and free coins created complications. After much thought, we decided a fresh start was best."
The Reddit Contributor Program: Earn Real Money with Reddit
Reddit is also kicking off a brand-new Contributor Program. If you're an active redditor, including being a mod, you can actually get paid for the stuff you post and the ways you help out on Reddit.
If you meet the program's criteria and verify your account, you'll get paid monthly based on your gold and karma from "qualified posts."
Users can sign up for the program to check their eligibility.
Redditors award gold to content they find truly valuable.
Qualified participants who accumulate enough karma and gold can receive real money.
The best contributors earn the most. The higher the karma and gold, the bigger the cash reward.
| Contributor Tier | Karma (Over 12 mo period) | Payout Rate (Dollars per Gold) | Minimum Gold for payout |
| --- | --- | --- | --- |
| Non-contributor | 0-99 Karma | No payout; balance rolls over | n/a |
| Contributor | 100-4999 Karma | $0.90 per 1 Gold | 10 |
| Top contributor | 5000+ Karma | $1.00 per 1 Gold | 10 |
How to Join Reddit Contributor Program
To get in on this, you'll need to meet some basic criteria and go through a quick verification.
Collect gold and rack up karma monthly
Must be 18 or older and reside in the United States
Submit proof of identity
Only contributions that are Safe for Work are eligible
Your account needs to be at least a month old
Also, you must make qualifying contributions on Reddit within the last year:
Receiving at least 100 karma over 12 months
Earning 10 gold
Once you're in, you can start earning real cash for your eligible Reddit activities. You'll get paid monthly, and the amount you make will be tied to the karma and gold you've earned on your posts and comments.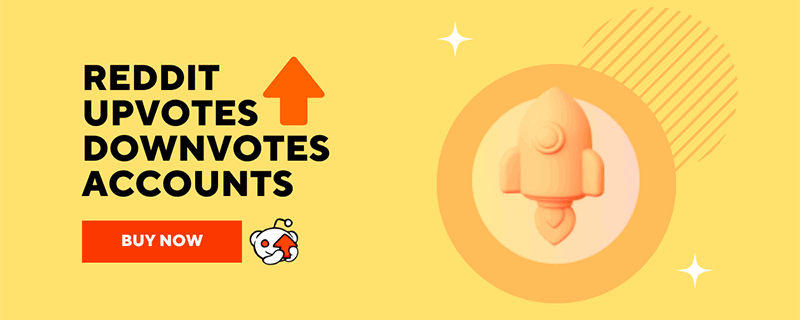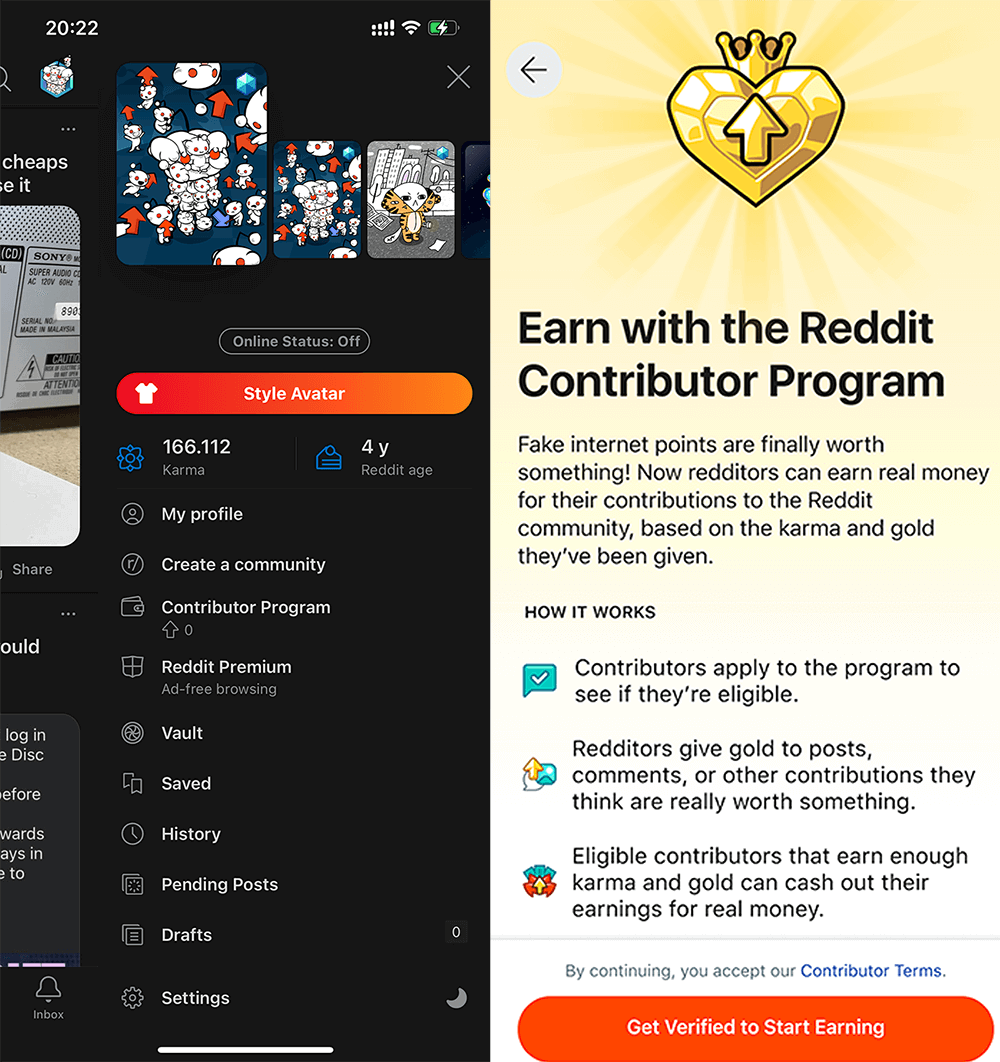 To find this program, just log in and go to your profile menu. You'll see the program page there. If you're eligible, you'll be able to tap the "Get Verified to Start Earning" button.
Once you have joined the Contributor Program, there will be a public status on your account showing that you are a Contributor or Top Contributor: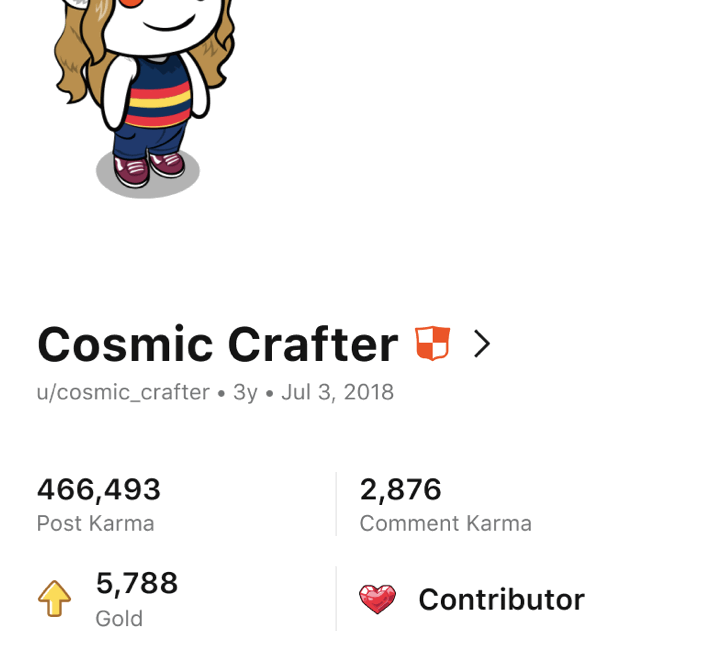 What is the Reddit Contributor verification process?
Ready to earn some cash for your Reddit contributions? Great! But first, you'll need to become a verified member of Reddit's Contributor Program. Here's what you'll need to provide:
1. Confirm Your Email
To stay in the loop about the program and your earnings, including tax-related info, you'll need a verified email. If you've already done this with Reddit, feel free to skip this part.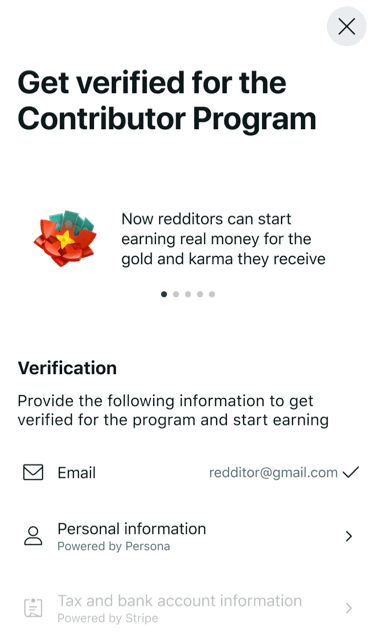 2. Verify Personal Details
For identity verification, you'll need to give us:
Your full name
Your birthdate (you must be at least 18)
Your country (some countries are excluded from the program)
Government ID (only for top earners)
We've teamed up with Persona, an identity verification expert, to keep your info safe. You can read Persona's Privacy Policy for more on how they handle your data.
3. Bank Account & Tax Information
To get your earnings, you'll need to set up a Stripe Connect Account. Here's what Stripe will need from you:
Your address (so they know it's really you)
Your Social Security Number or ITIN (for tax reporting)
Government ID (sometimes required for legal reasons)
Your bank or debit card details (so you can get paid)
That's it! Once you've got all this sorted, you'll be on your way to earning real money for your Reddit contributions.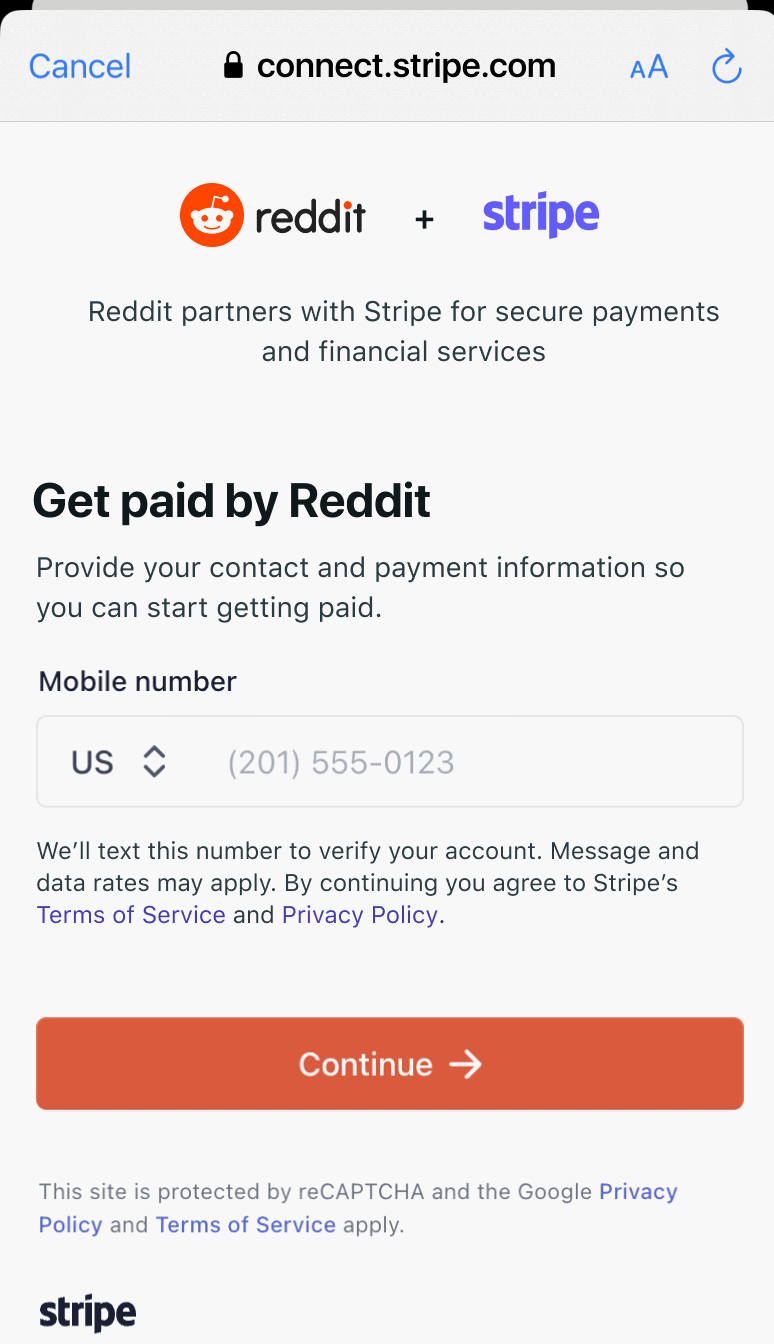 Earning & Payout Information
The Contributor Program allows eligible Reddit users to make some cash for their posts and comments. The more karma and gold you collect, the more you can earn. Once you've passed the verification steps, you can cash out your earnings.
What Does "Payout" Mean?
A payout is simply the transfer of your Contributor Program earnings to your bank account. Reddit has teamed up with Stripe to handle these transactions. You'll need to set up a Stripe Connect Account as part of the verification process.
How Much Can I Make?
There are two levels: Contributor and Top Contributor. Your earnings depend on the karma and gold you've collected. Each level has its own payout rate, which multiplies with the number of gold awards you've received to determine your earnings.
How Does Karma Factor In?
Your karma starts counting from the day you get your first gold award. Any karma earned before doesn't count.
Your monthly payout rate is based on this karma balance. And remember, we only look at the karma you've earned in the past year for this program.
When Do I Get Paid?
If you've earned at least 10 gold awards in a month, you'll see the money in your Stripe account within 30 days after the month ends.
If you earn less than 10 gold, it rolls over to the next month.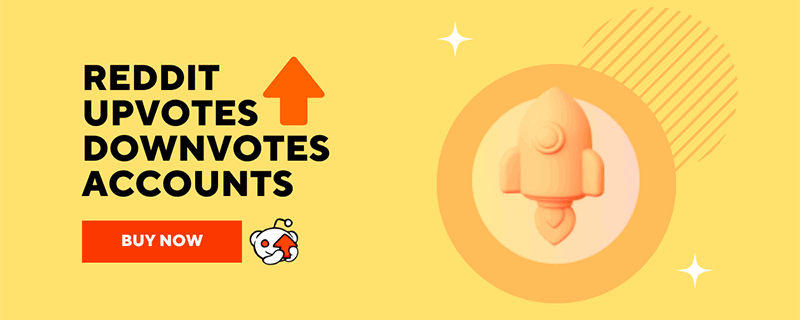 Where Can I Track My Earnings?
Once you're verified, you'll find a Contributor Program link in your profile menu.
This dashboard shows your earnings, past payouts, and activity like gold and karma.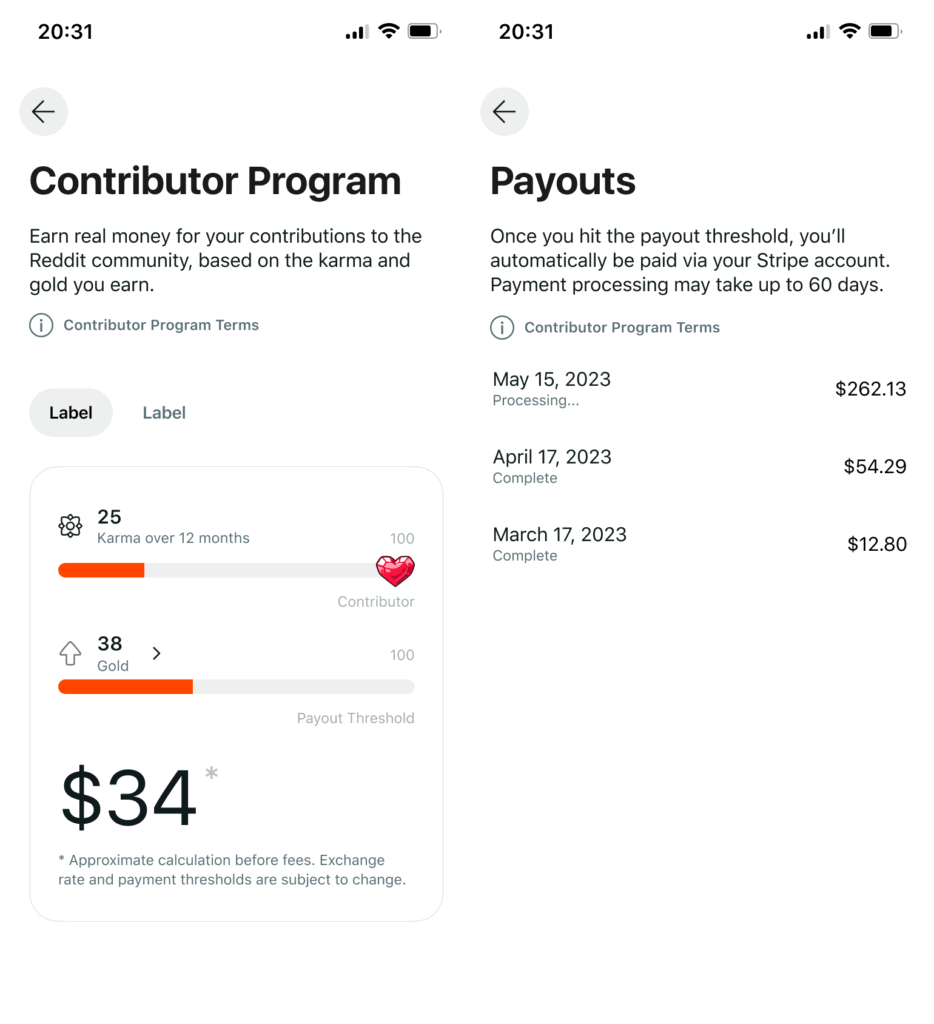 Reddit Contributor Program FAQs
What is the Reddit Contributor Program?
The Reddit Contributor Program allows users who meet specific criteria to earn money through Reddit. You can earn cash based on the karma and gold you collect on your posts and comments over a 12-month period.
Who is Eligible to Participate?
To be eligible, you must:
Be at least 18 years old
Live in the United States (more regions coming soon)
Have a Reddit account in good standing
Agree to the Contributor Program Terms and Monetization Policy
Complete a verification process
Can Moderators Join the Program?
Yes, moderators can join the Contributor Program under the same guidelines as other Reddit users.
How Do I Know if I Qualify?
You'll find a "Get Verified to Start Earning" button on the Contributor Program marketing page if you qualify. This page can be accessed from your Reddit profile.
What Contributions Count?
Only eligible contributions qualify for payouts. These exclude posts in quarantined or NSFW communities and posts containing sexual, violent, or restricted content.
What are the Program Tiers?
Contributor: Earns 100–4,999 karma in 12 months and gets $0.90 per gold.
Top Contributor: Earns 5,000+ karma in 12 months and gets $1.00 per gold.
Will Others Know I'm in the Program?
Yes, your profile will show a public status indicating your tier (Contributor/Top Contributor).
How Does Reddit Handle Fraud and Spam?
Reddit uses Know Your Customer (KYC) screening, internal safety signals, and new monetization policies to prevent bad actors from participating.
How Do I Exit the Program?
If you wish to leave the program, you can submit a request through the program support form.